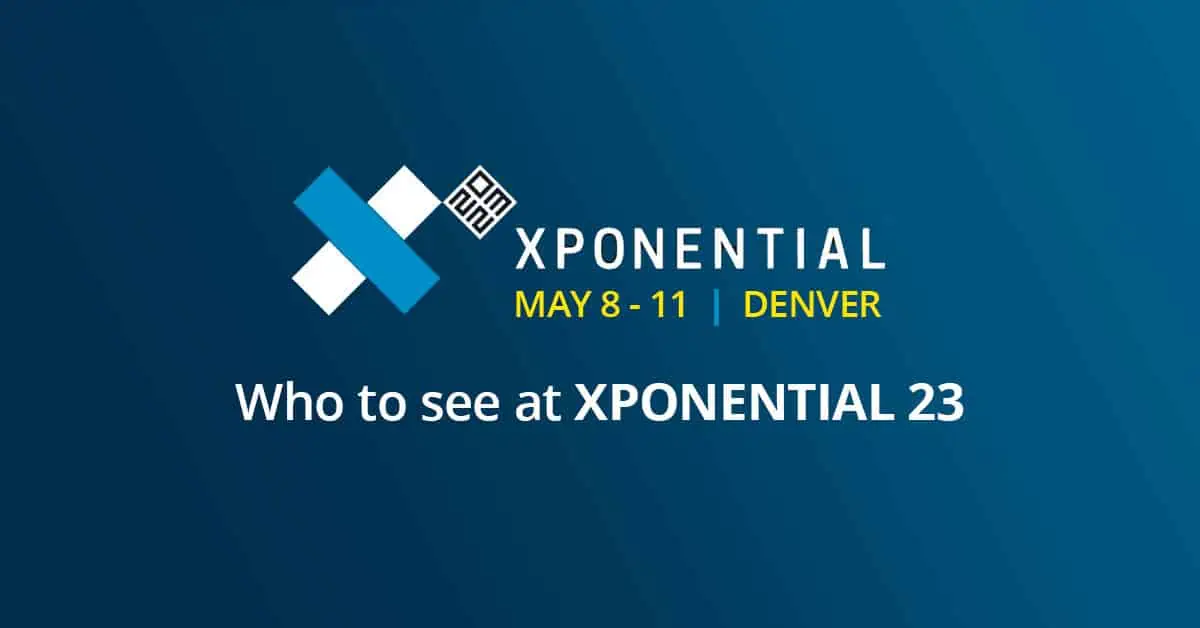 AUVSI XPONENTIAL gathers together global leaders and end users in the uncrewed systems and robotics industry. Showcasing commitment to collaboration and technological excellence, the event is the most comprehensive trade show and conference for the unmanned sector.
Four days of demos, keynote sessions, workshops and networking opportunities await attendees at the Colorado Convention Center, Denver, May 8-11, 2023. Excitement is building here at UST, we're keen to be meeting with so many of our partners again in person.
We're delighted to be working with so many companies attending Xponential this year, whether they are exhibiting, presenting or walking the floor – if you'd like to meet up then why not send a message via our platform? Details below:
Advanced Navigation at Booth 3612: AI-based Inertial Navigation Systems (MEMS and FOG), Acoustic Positioning Solutions
AlarisPro at Booth 4034: UAS Operations & Fleet Management Software | UAS Monitoring System
Alpha Unmanned Systems at Booth 2616: Helicopter UAVs: Rotary Wing Drones for Maritime, Naval & Security Operations | UAS GCS
Alva at Booth 1924: High-Power Slotless Drone Motors & UAV Propulsion Systems
Applied Aeronautics: at Booth 4242: Affordable Fixed-Wing Drone for Commercial Applications
Ascent AeroSystems at Booth 3443: Lightweight & Modular Coaxial Drone for Public Safety, Emergency Response & Disaster Relief
Aurora Flight Sciences at Booth 2816: Uncrewed Aircraft Systems, Optionally Piloted Aircraft & CUAS Interceptor Drones
Auterion at Booth 3812: Drone Control Software & Hardware for Integrated Drone Mission Planning & Drone Fleet Management
Black Swift Technologies at Booth 3616: Autonomous UAS, Research & Inspection UAVs for Industrial Inspection, Survey & Mapping
Blue Marble Geographics at Booth 1805: Geospatial Data Analysis, Point Cloud Processing and GIS Mapping Software for Drones and UAV
Blue Robotics at Booth 2213: Tethered Ocean ROV, plus Underwater Thrusters & Scanning Sonar for ROV & AUV
Blue Vigil at Booth 4914: COTS Drone Power Tether Systems | Drone Tethering Kits for OEMs
Botlink at Booth 4512: UAV Solar MPPT, Battery Management Software, LTE Drone Control System & Flight Planning App
C-Astral at Booth 2327: Fixed-Wing UAS, Tactical Drones for Long-Range SAR, C4ISR and Surveying Applications
Centum Research & Technology at Booth 2616: Mobile Phone Detection System for Airborne Search and Rescue (SAR)
Charles River Analytics at Booth 4942, MR7: Automatic Target Recognition for AUV & AI-Based Maritime Situational Awareness for USV
Cobham Aerospace at Booth 4142: SATCOM for BVLOS UAV Satellite Communications & Control
ComNav Technology at Booth 339 & 3340: High Precision GNSS Receivers, Antennas, OEM Boards & Wireless Datalinks
CR Flight at Booth 1621: Electric Propulsion Units for Unmanned Aircraft Systems; Drone & UAV Propeller Propulsion
Crystal Group at Booth 2734: High-Performance Compute Solutions that Deliver Powerful, Seamless Performance in Demanding Environments
Deep Trekker at Booth 2210: Advanced ROVs – Remotely Operated Vehicles – for Underwater Inspections
DeTect at Booth 3430: Drone Detection Systems & Tracking Radars; BVLOS & Sense-and-Avoid Technology
Domo Tactical Communications at Booth 4111: Software Defined Radios (SDRs) and IP Mesh Radios for UAV, Drones, UGVs and Robotics
Doodle Labs at Booth 4416: Mesh Radio, WiFi Transceivers & Wireless Mesh Network Technology for Drones, UAVs, UGVs & Robotics
Draganfly Innovations at Booth 2331: Heavy Lift Drones & Electric Quadcopters for Deliveries, Public Safety & Agriculture, Long-Range LiDAR Systems
Echodyne at Booth 3634: ESA Radar for Counter-UAS & Ground-based or Airborne DAA (Detect-and-Avoid)
Edge Autonomy at Booth 4813: Long-Endurance Fixed-Wing & Hybrid VTOL UAVs, UAV Payload Camera Systems, & Power Systems
Elistair at Booth 2531: Tethered Drone Systems for Military and Commercial Applications
Embention at Booth 2516: UAV Autopilot Flight Controllers, Ground Stations, ESC Controllers & Tracking Antennas
ePropelled at Booth 4410: Electric Propulsion Technology & Power Systems. Drone Motors, Motor Controllers & Starter Generators
FIBERPRO at Booth 2518: Tactical-Grade FOG-Based IMU for UAVs, Autonomous Vehicles & Pipelines
Fischer Connectors at Booth 2837: High Performance Connectivity Solutions | Rugged & High-Density Circular Connectors
FIXAR at Booth 4840: Autonomous Fixed-Wing VTOL UAV and Indoor Drones for Inspections & Mapping
Fizoptika Malta at Booth 1424: Miniature Fiber Optic Gyroscopes (FOG Sensors) & IMUs for UAVs & Robotics
FT Wind Sensors at Booth 2139: Rugged Drone Anemometers & Ultrasonic Wind Sensors for UAVs & Ground Control Stations
Fusion Engineering at Booth 4623: Drone Flight Controllers for Multirotor, Quadcopter & VTOL UAVs
Genuis NY: at Booth 4623: Business Accelerator Competition in Central New York focused on uncrewed systems, IoT, robotics and big data startups
Gladiator Technologies at Booth 2946: MEMS Inertial Sensors: IMUs, GPS-Aided INS, Gyroscopes, Accelerometers, AHRS
gNext at Booth 2848: Drone Inspection Software for Digital 3D Mapping & Point Cloud Modeling
GREMSY at Booth 2746: Stabilizing Gimbals & Stabilized Camera Mounts for Drones & UAVs
Harxon Corporation at Booth 3237 and 3340: RTK Antennas; Positioning, Tracking & Surveying GNSS Antennas for Drones & Robots
Hexagon | NovAtel at Booth 3649: Precise Positioning for Unmanned Vehicles: GPS & GNSS Receivers, Antennas & Inertial Systems
HFE International at Booth 2821: EFI, Mil-Spec & Rotary UAV Engines / UAV Servos Actuators / Fuel System Parts
Hitec Commercial Solutions at Booth 4322: Brushless Servo Actuators & Linear Actuators for UAV, Robotics & Unmanned Systems
Honeywell at Booth 2605: BVLOS Solutions for UAS & UAM: Fuel Cells, Radar, Navigation Sensors, Flight Control & SATCOM
Inertial Labs at Booth 2646: Inertial Navigation Sensors: MEMS IMU, Accelerometers, Gyroscopes, AHRS, GPS-INS & Point Cloud Generation
InfiniDome at Booth 3113: Anti-Jamming GPS/GNSS Protection Technology for Drones & Autonomous Vehicles
Inmarsat at Booth 3412: BVLOS Connectivity & Safety Services for Uncrewed Aircraft & UAVs
Inspired Flight at Booth 2416: Professional, Heavy-Lift US Multirotor Drones for Commercial and Industrial Applications
Intelligent Energy at Booth 1816: Compact Hydrogen and PEM Fuel Cells for Drones and UAV
INVOLI at Booth 1616: Remote ID Drone Trackers, Receivers & Real-Time Air Traffic Monitoring & Analytics for Unmanned Traffic Management
Iridium Communications at Booth 4216: Maritime Satellite Communications & Connectivity – SATCOM Terminals and Antennas
Iris Automation at Booth 2039: Detect-and-Avoid Drone Collision Avoidance System
Kongsberg Geospatial at Booth 3037: Geospatial Software for Real-Time Mapping, Data Visualization & Situational Awareness
LI-COR Environmental at Booth 3822: Compact 3D Ultrasonic Anemometers & Weather Sensors for Drones, UAVs & GCS
LightWare at Booth 2167: Compact, Micro LiDAR Sensors, Range Finders and Laser Scanners for Drones and Autonomous Vehicles
Mejzlik Propellers at Booth 4434: Custom-Designed Carbon-Fiber Drone Propellers for OEM Manufacturers
missionGO at Booth 2012: Unmanned Services: Inspection, Medical/Cargo Delivery, UAS Training | Electric VTOL UAV
MKS Servos at Booth 4121: Brushless Servo Motor Actuator Systems for Uncrewed Aircraft/Drones & Marine Robotics
Mobilicom at Booth 3112: Cyber Protection, Wireless MESH Communications & Data Links, Mobile GCS for Tactical UAVs & Robotics
Nicomatic at Booth 1613: Micro Connectors for Aerospace, UAVs & Robotics – Rugged, Modular, High-Performance
Northwest UAV at Booth 2016: UAV Engines, Autopilots, Servo Actuators and Design & Development Services
Omnetics at Booth 2137: Micro and Nano Miniature Connectors for Unmanned Systems
Overwatch Imaging at Booth 3832: Automated Imaging Systems, Multispectral & EO/IR Sensor Payloads for Airborne ISR & SAR
Oxford Technical Solutions at Booth 2148: Inertial Navigation Systems / MEMS GNSS-INS Solutions for Drones and Autonomous Vehicles
T-DRONES at Booth 4235: Industrial & Multirotor Drones, Drone Motors, UAV ESC & Propellers
TEKEVER at Booth 4620: Fixed-Wing UAV Systems, Modular VTOL, Long-Range Maritime UAV, & Tactical ISR UAS
Teledyne Geospatial at Booth 1811: Survey-Grade Drone LiDAR Sensors & AI-Based Data Processing Software
Teledyne Lumenera at Booth 1811: UAV Cameras: CMOS USB3 Cameras & OEM Imaging Systems
TrellisWare Technologies at Booth 3021: Radio Communication Systems – TSM Waveform MANET Radio Modules for Resilient Communications
Triad RF Systems at Booth 1706: Integrated Radio Systems, RF Power Amplifiers, Bi-Directional Amplifiers & Assemblies for UAV & Unmanned Systems
Tualcom at Booth 4641: Anti-Jam GPS-GNSS Devices, Tactical Data Links, Telemetry Systems, Electronic Warfare Equipment
UAV Propulsion Tech at Booth 3646: UAV Hardware Solutions: Propulsion & Fuel Systems, Servos & Flight Controllers, Imaging Solutions, Launchers & Parachutes
uAvionix at Booth 2720: Certified UAV Communications, Navigation, Control, Surveillance, and Combat ID Solutions
UXV Technologies at Booth 3346: Ground Control Systems (GCS) & Handheld Controllers, UAV Camera Gimbal & Field-Oriented Control ESC
VectorNav at Booth 2937: High-Performance Inertial Navigation Systems (INS) for Unmanned Systems
Vertiq at Booth 3046: Industrial Drone Propulsion & High Performance Servos for Aerial Vehicles
Vision4ce at Booth 3042: Rugged DVR Recorders, Video Processing Units & Software for UAVs; Rugged Computing for Surveillance & Defense
Volatus Aerospace at Booth 4205: Drone Technology Supplier & Drone Service Provider for Public Safety, Transportation & Training
Volz Servos at Booth 3527: Precision Electro-Mechanical Servo Actuators for Drones, UAVs, Unmanned Systems & Robotics
Warren County Community College: Delivering Hands-on Training Workshops in Drone Maintenance and Repair
WISPR Systems at Booth 2843: Customizable, Industrial Quadcopter Drone for Aerial Mapping, Surveying & Inspections
… See you there!