FT Technologies is a specialist designer and manufacturer of high-performance Acoustic Resonance wind sensors, also known as anemometers. Our ultrasonic wind sensors are compact, lightweight and deliver reliable wind speed and direction data in the toughest of climates and weather conditions.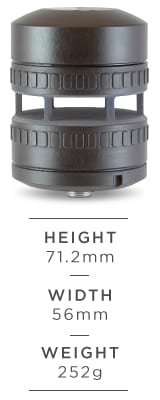 The small footprint, light weight and ease of integration of our anemometer sensors make them ideal for meteorological applications in the defense and aerospace sectors, such as on board unmanned vehicles and at UAV (unmanned aerial vehicle) ground launch and recovery stations.
The drone anemometers achieve high accuracy within the measured air speed range of 0-75m/s, and have been used as a pitot tube replacement on fixed-wing UAVs. With full 360° air speed direction measurement, they are ideal for station-keeping and hovering on quad-rotor UAVs, as well as dynamic positioning control in gusty and turbulent environments.
We are ISO 9001 and ISO 14001 certified, and all of our wind sensors undergo a rigorous battery of vibration and shock, waterproofing and sealing, temperature and EMC tests to ensure reliable service, even in the harshest of environments.