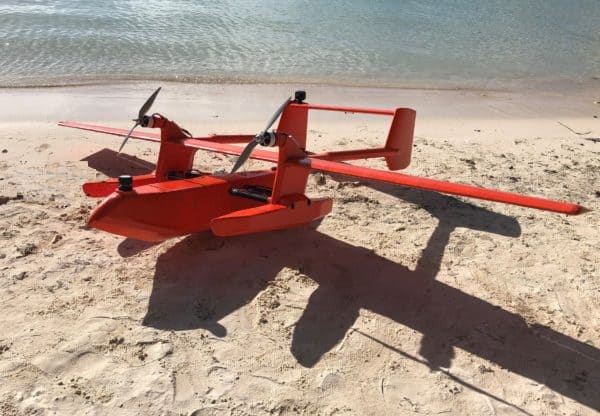 FT Technologies has released a case study detailing how its FT205 ultrasonic wind sensor was integrated into a fixed-wing UAV (unmanned aerial vehicle) as an alternative to a pitot tube.
Read the full case study on FT Technologies' website here
Space Entertainment Laboratory's Hamadori is a fixed-wing unmanned seaplane, featuring a flight endurance of up to two hours, that has been designed for for surveillance and monitoring services both at sea and on land. Early trials of the UAV used a pitot tube to gather airspeed data, but the Hamadori's designers found that the tube would be blocked by water on both takeoff and landing.
The FT205 ultrasonic wind sensor was selected as an alternative type of airspeed sensor that would continue to function in seawater environments. It was fitted to the nose of the UAV via a 3D-printed mount and connected to the aircraft's battery and flight controller.
The sensor worked as intended, delivering accurate airspeed data to the flight control system throughout the tests. To find out more about the Hamadori unmanned seaplane and FT Technologies' FT205 ultrasonic wind sensor, read the full case study on FT Technologies' website.