AIRLink
AIRLink stands for Artificial Intelligence & Remote Link.
AIRLink by Sky-Drones is the most advanced AI drone flight controller available on the market to date. The unit includes a cutting-edge drone autopilot, AI mission computer and 4G LTE or 5G connectivity unit.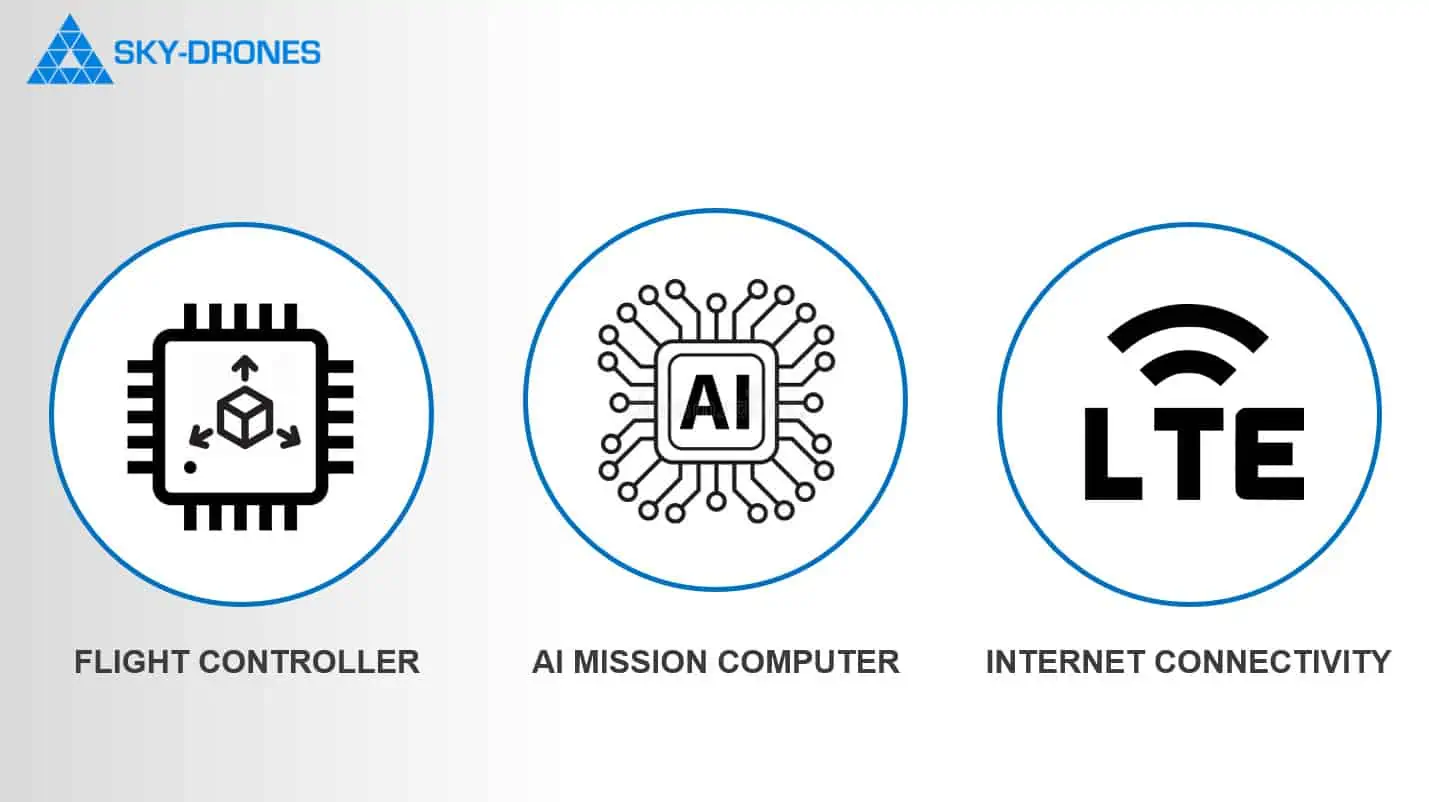 Specialising in enterprise drone operations, AIRLink will see your UAV venture enter the market in weeks as opposed to months, sometimes even years, because Sky-Drones have created the all-in-one flight solution.
AIRLink is fully compliant with the 2020 National Defense Authorization Act, Sec 848.

SmartAP MAX + SmartLink = AIRLINK
From flight control and connectivity, from SmartAP MAX and SmartLink to AIRLink - all in one integrated avionics for drones.
FPV and Payload camera inputs, HD FPV camera included
3x-redundant vibration-dampened temp-stabilized IMU
Internet connectivity: Ethernet, WiFi, 4G or 5G
Sky-Drones Cloud connectivity and remote control
UTM integrated and BVLOS ready
Deploy your own apps
5G Inside
AIRLink has an integrated 5G connectivity module which provides lower latency and higher data bandwidth compared to 4G option.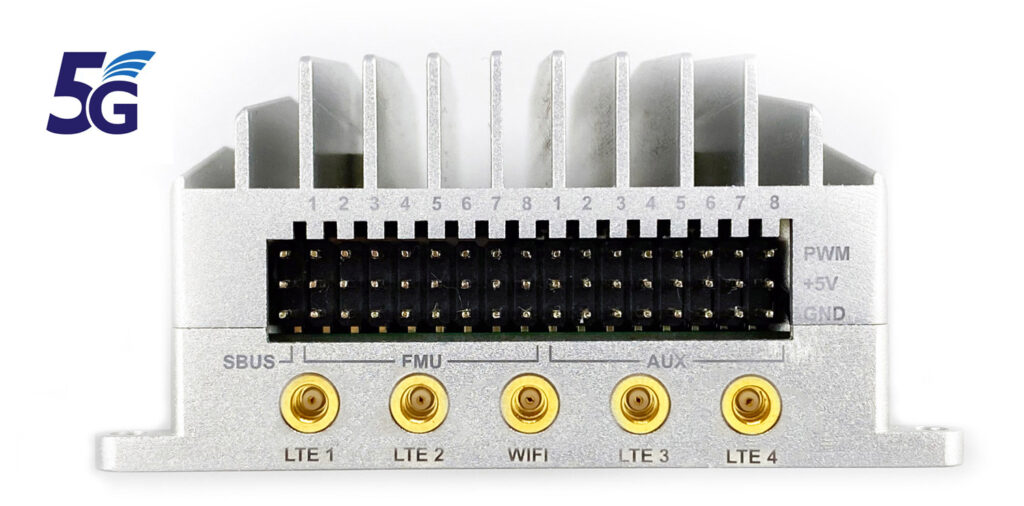 Up to 600 Mbps bandwidth
5G sub-6 and mmWave, SA and NSA operations
4G Cat 20, up to 7xCA, 256-QAM DL/UL, 2xCA UL
4 x 4 MIMO for 4G and 5G (sub-6 bands)
3G HSPA+
Approved by JRL/JTBL, FCC, PTCRB, RED, GCF
PX4 - Open Source Autopilot for Drones
AIRLink, the most advanced AI avionics for drones fully supports PX4 Software stack. You can view, edit and compile the open source code from the official repository.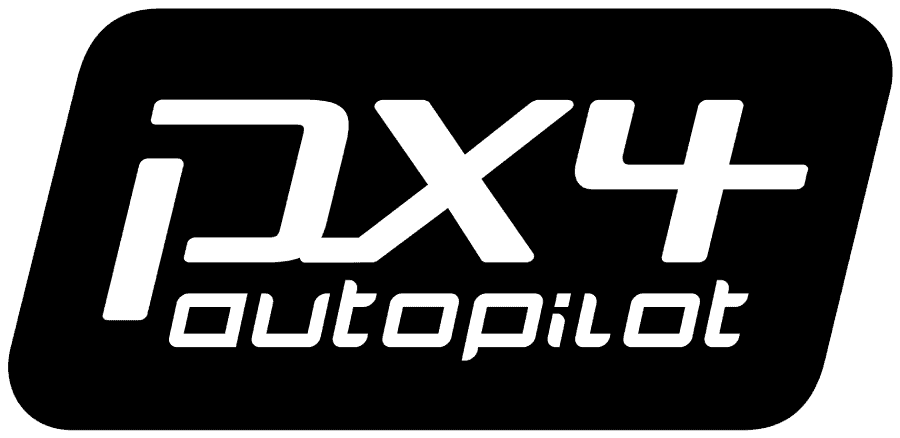 ArduPilot - Open Source Autopilot for Drones
Sky-Drones is an official member of Ardupilot Partner Program and AIRLink fully supports Ardupilot Software stack.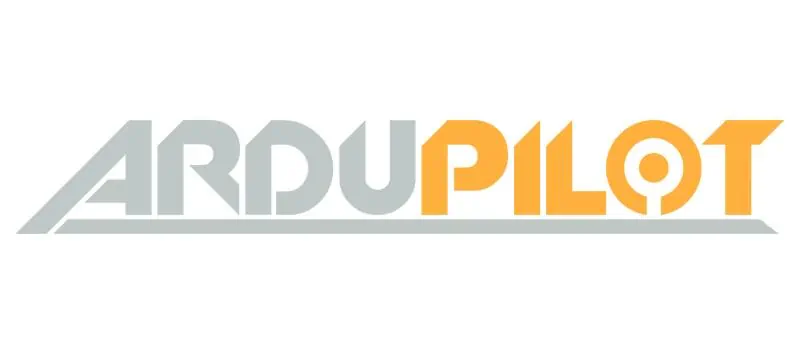 FPV HD Video Included
AIRLink comes fully equipped with a 1080p HDR camera providing an exceptional image quality. The FPV camera connector is exposed on the front side of the AIRLink unit, making the integration and camera mounting quick and simple in even the most space-constricting of UAV designs. This native CSI interface provides the minimum latency physically possible.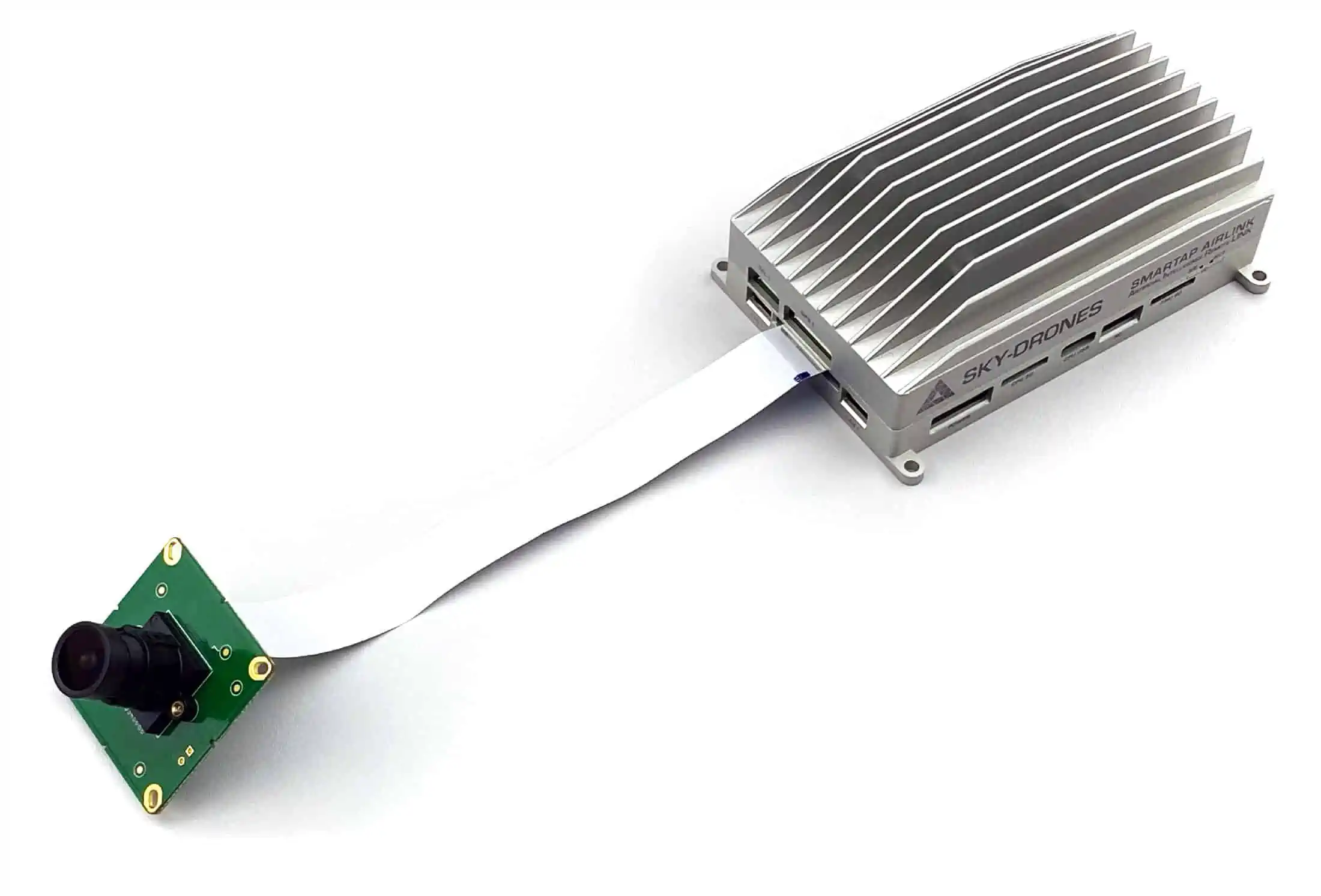 Connectivity
AIRLink is continually connected to the internet in more ways than one!
Ethernet Port with power output
Telemetry port
Second GPS port
Spare I2C / UART port
Flight Controller USB Type-C
Micro SIM Card
HDMI Input port (Payload camera)
AIRLink Editions: Core
Sky-Drones will provide the internal workings of the units without the external aluminium casing so as to integrate this directly into the manufacturing of your fleet. We will guide you through making sure the technical requirements are met on your UAV to comply with the needs of the AIRLink units. This unit design is specifically aimed at drone manufacturers producing medium-high volumes with deep integration of AIRLink into the UAVs. Sky-Drones offers its engineering and design team to fully support designers and manufacturers along the way.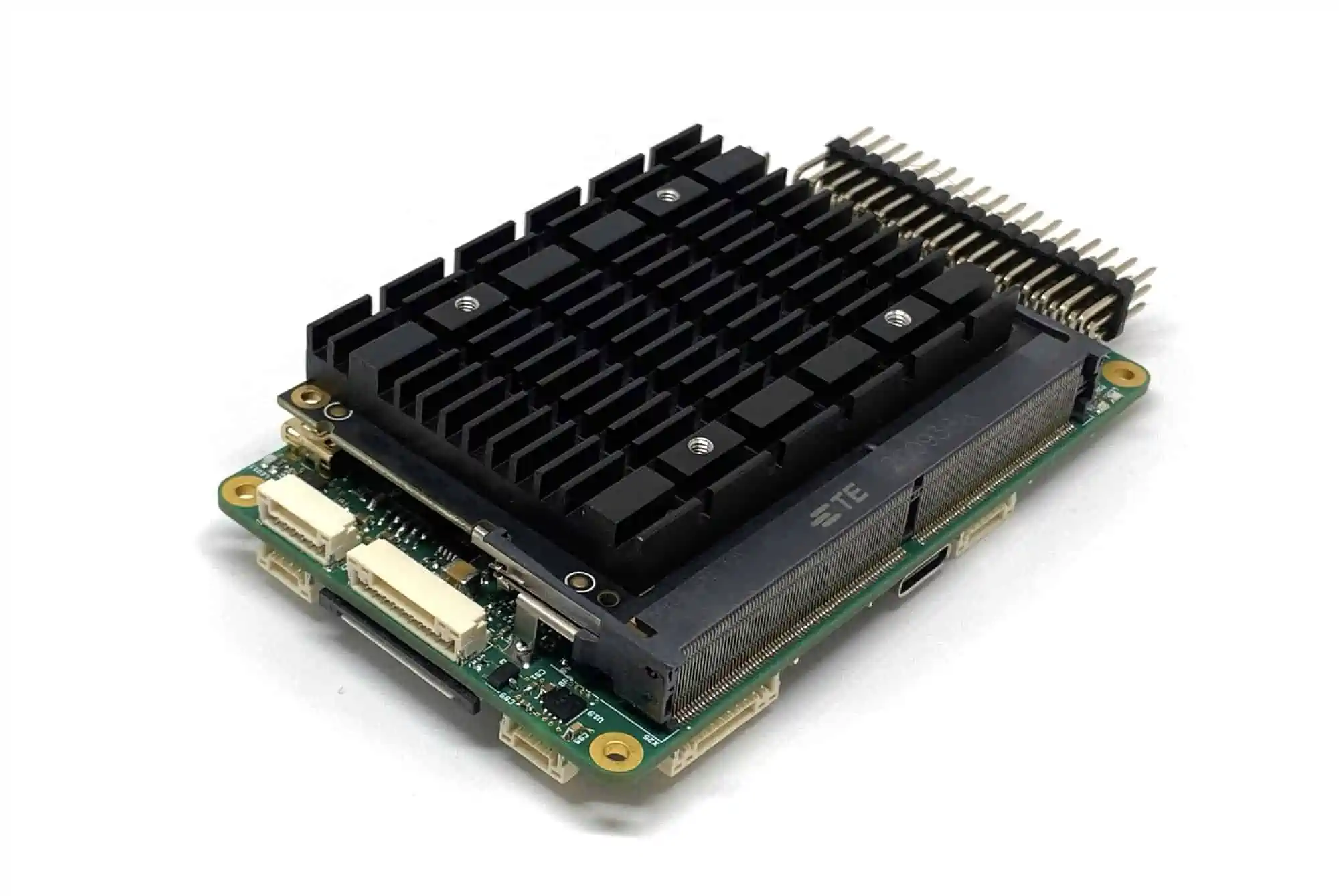 AIRLink Editions: Enterprise
These AIRLink units come as we designed and manufactured them, and are ready to attach to your UAV immediately. Sky-Drones can provide a discounted rate per unit when buying for multiple drones in your UAV fleet, and will continually be on hand to ensure the integration is smooth and simple.
Sky-Drones recommends this unit design for low-medium volume production and benefits from easy installation, non-ITAR. All AIRLink units are manufactured in the UK and are shipped within 48 hours after receiving the order.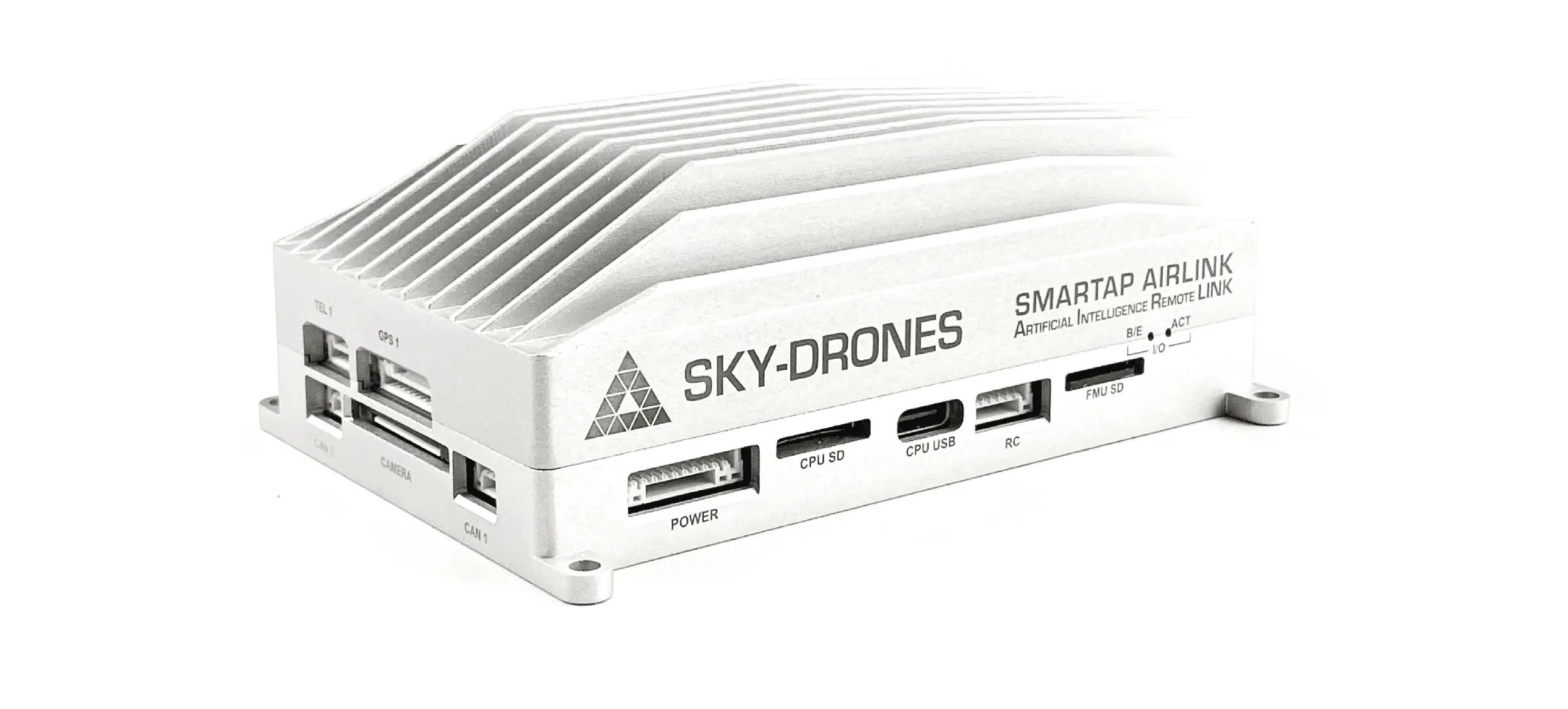 AIRLink Editions: Reference Design
Sky-Drones offers licensing for larger UAV manufacturers to build the units in-house, saving time and costs all round. This is recommended for drone manufacturers producing high volumes. The integration is the tightest of all 3 editions with schematics and CAD drawings offered as a standard. The Sky-Drones team including founder and CEO are on hand to work with you in your country of production to set up the manufacturing process. Allowing you to control your own volume of AIRLink units gives you complete freedom over your UAV enterprise.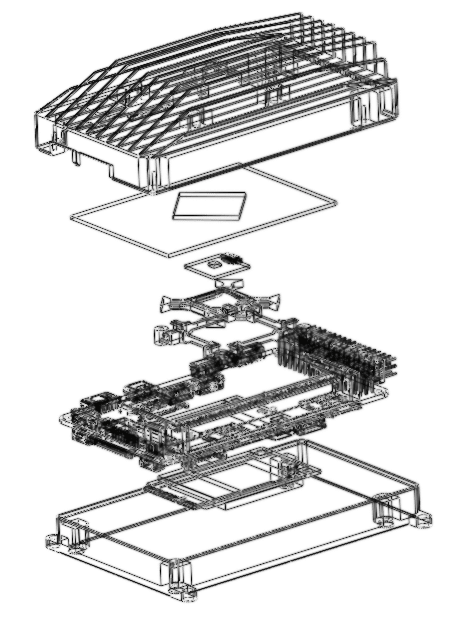 What's included?
SmartAP AIRLink set includes everything needed to setup the system and get prepared for the flight. Standard set contains:
1x AIRLink Enterprise unit
1x FPV camera with CSI cable
1x WiFi antenna with MMCX connector
2x LTE antenna with MMCX connector
1x HDMI to mini HDMI cable
1x set of cables (7 cables for all connectors)
1x JST-GH to Ethernet RJ45 dongle