Veronte Autopilot 4x
The Veronte Autopilot 4x is a redundant system for safety-critical applications such as UAM, tactical drones and MALE/HALE platforms. The miniaturized system has been designed to avoid a single point of failure, and has been designed in accordance with DO178C / ED-12 and DO254 aviation standards.
The 4x redundant drone autopilot incorporates three complete autopilot cores and a dissimilar arbiter board for managing redundancy. The system can be interfaced with a mission computer for computer vision or extended data processing capacity.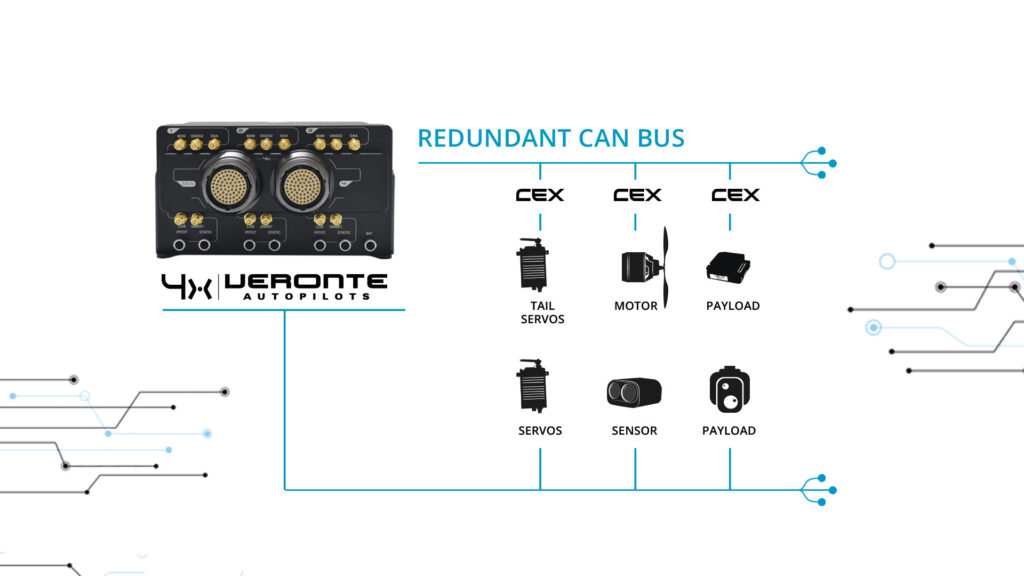 The Veronte Autopilot 4x can be connected to a range of third-party LOS, 4G/LTE and Satcom datalink modules to enable communications at any range, and to ADS-B, radar, LIDAR and other sensors to provide automated detect-and-avoid capabilities.
| | |
| --- | --- |
| Dimensions | 128 x 70 x 84 mm |
| Weight | 750g (including 3x radio modules) |
| Power | 17W (without comms module) / 29W (3G) |
| Sensors | 6x magnetometer, 3x pitot, 9x IMU, 9x barometer, 6x GNSS |
| Pitch/Roll/Yaw | 0.5 / 0.5 / 1.5 deg (0.2 / 0.2 / 0.3 deg upgrade) |