SkyRobot™ FX10 Fixed-Wing UAV
The SkyRobot FX10 is a highly portable hand-launched UAS designed for professional surveillance applications and military ISR (intelligence, surveillance and reconnaissance) missions. The easy-to-operate drone gives conductors of scouting, surveillance and convoy operations a bird's eye view of their surroundings, providing reliable situational awareness and threat detection.
Modular, back-packable & easy to operate
Capable of being carried in a backpack and launched within minutes, the aircraft is built around a composite airframe and features a retractable gyro-stabilized EO/IR gimbal.
The long-endurance electric propulsion system gives the aircraft a flight time of up to two hours.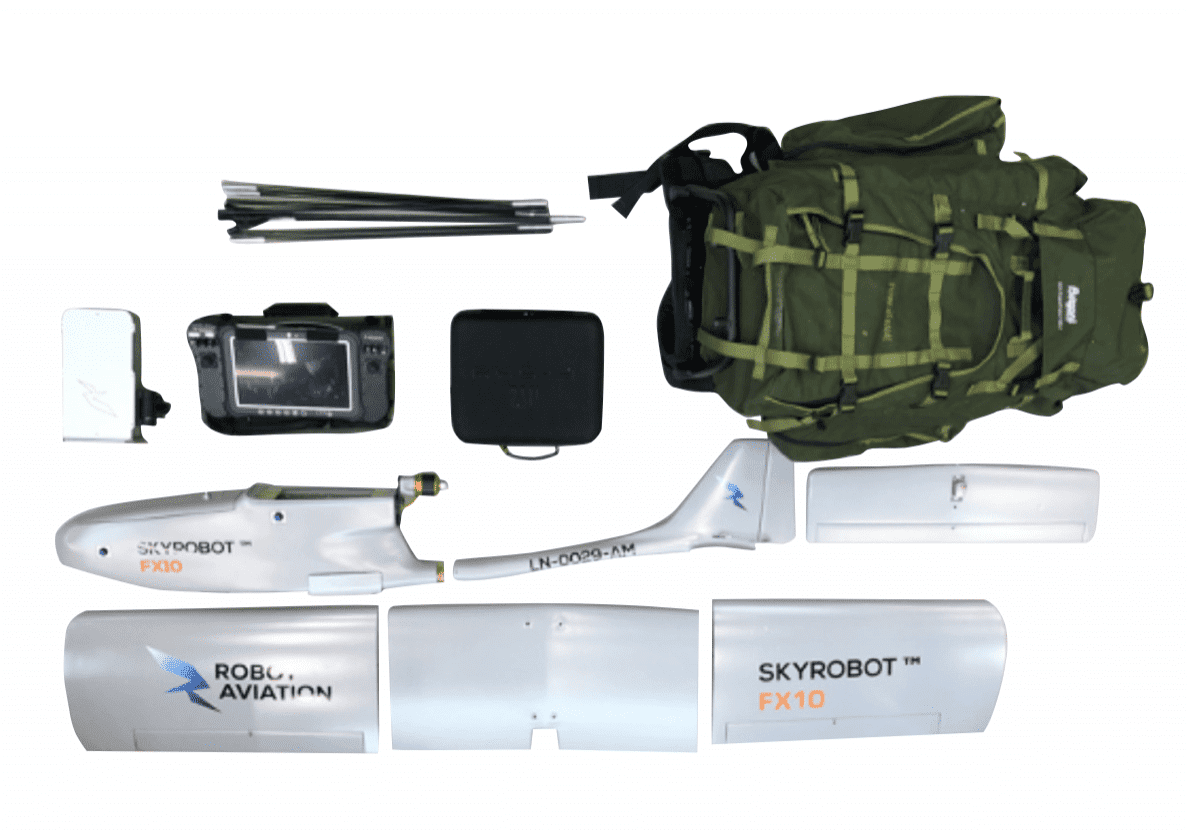 Fully autonomous missions
The integrated SkyView EasyPilot autopilot uses GPS, INS and laser altitude sensors to provide autonomous operation, including landing.
Mini rugged GCS for long-range UAV flightsA rugged Ground Control Station, equipped with NATO STANAG 4586-compliant GCS software, provides a long-range (up to 30km) communications and video link, allowing pilots to direct the flight of the aircraft, control the gimbal, and land the UAV.
Convoy-On-The-Move
The SkyRobot FX10 features advanced flight modes that allow it to stay ahead of vehicle convoys, automatically entering an orbiting mode when the convoy stops and keeping its camera positioned on the area surrounding the vehicles. When travelling at speed, the SkyRobot will aim its camera at a desired location relative to the convoy. Video from the SkyRobot can be received inside vehicles as well as transmitted back to base.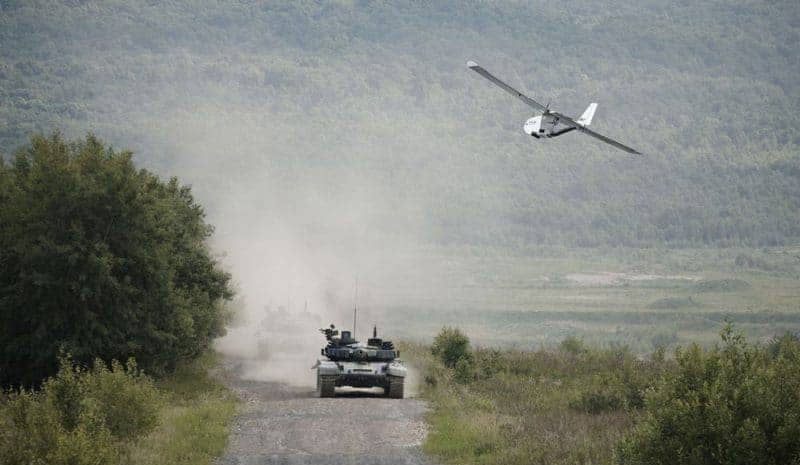 GPS Denied
The FX10's datalink uses a phased array antenna system that can be used to read the direction and location of the aircraft even in GPS-denied environments.
Specifications: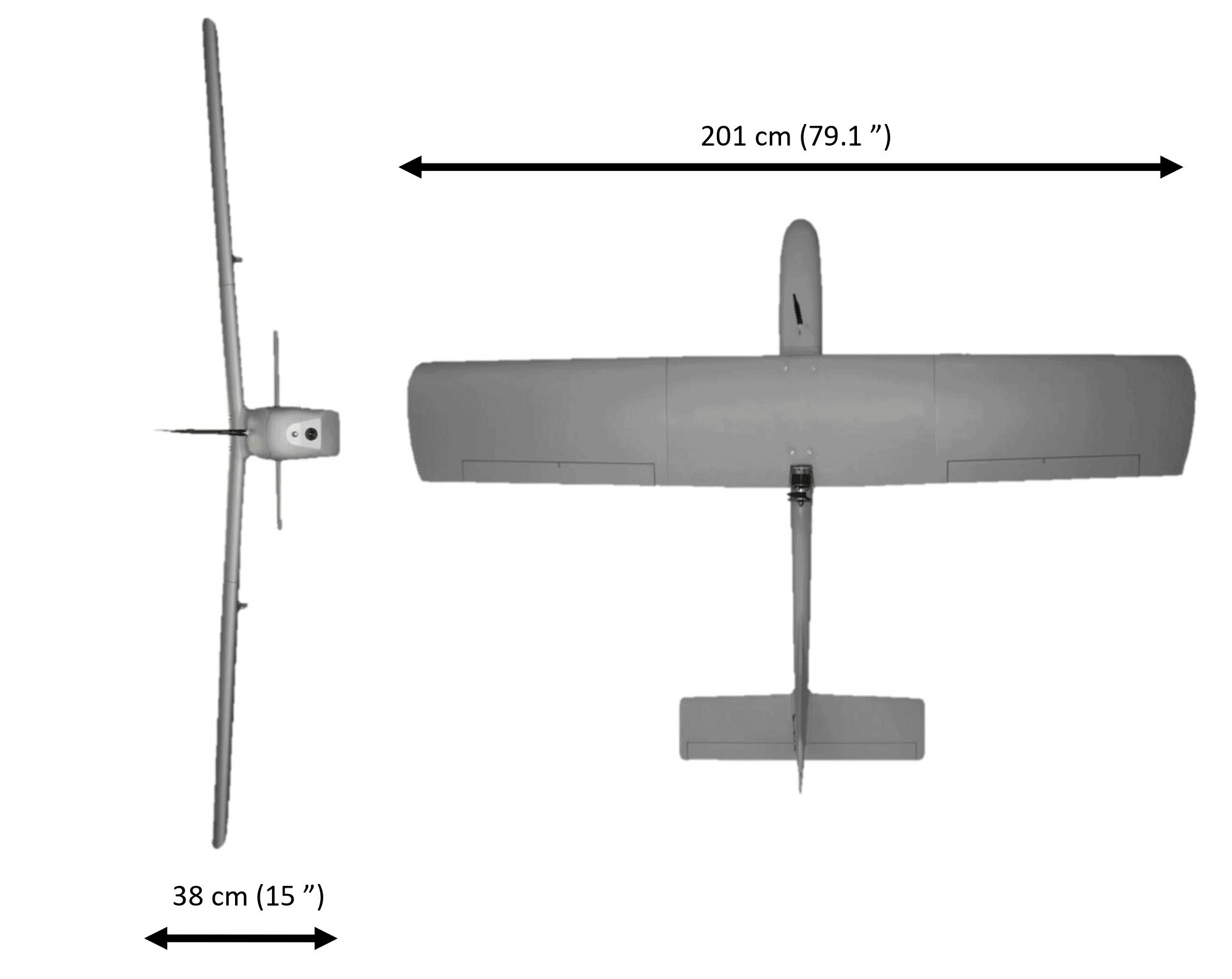 | | |
| --- | --- |
| Wingspan | 2.01 m |
| Airframe Length | 1.53 m |
| MTOW | 6.5 kg |
| Endurance | 2 hours |
| Cruise Speed | 22 m/s |
| Maximum Speed | 40 m/s |
| Take off | Hand launched |
| Typical Mission Altitude | 75-1500 m (AGL) |