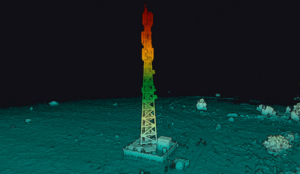 YellowScan explains how its Mapper+ LiDAR system was used by La Orizont for inspections of a telecommunications tower.
The purpose of the inspection was to create a digital twin that offers the possibility to perform several types of analysis, such as line of sight analysis and radio frequency simulation signal analysis.
The system was mounted with 45-degree hooks (designed for vertical element scanning).
Through seamless data acquisition and efficient processing, the telecommunications tower was brought to life. This virtual replica proved to be a versatile playground for exploring various equipment changes and additions.
Data acquisition was a breeze and the Mapper+ technology helped maintain high-quality standards and empowered them to make well-informed decisions based on reliable information.