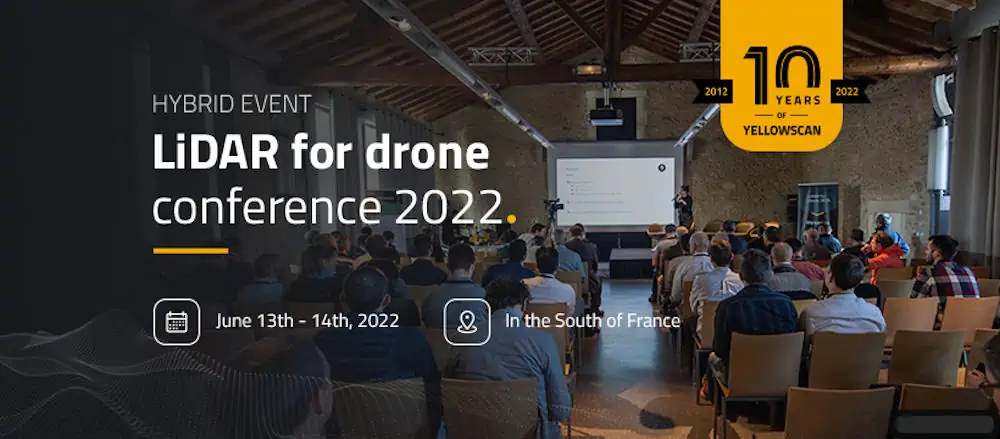 YellowScan has announced the fourth edition of its Global Community Conference, LiDAR for Drone 2022. The biannual event is opportunity to join experts, share experiences, and gain inspiration from others and the YellowScan Team.
This event is designed for anyone that is already a part for the YellowScan ecosystem or a professional Unmanned Aerial Vehicle (UAV)/LiDAR user that wants to increase their knowledge and skill set.
The event will host an extensive program of more than 30 technical sessions, workshops, live demos and training sessions that can help users' current and future LiDAR strategies. The conference provides an opportunity for members of the YellowScan ecosystem to discuss the latest developments in LiDAR technologies, share experiences, and meet with other customers, partners and distributors. These networking opportunities will also give attendees a chance to showcase their involvement and share their success stories with the LiDAR community. YellowScan will also discuss and demo its latest hardware and software products in detail.
This year YellowScan has Applanix, Riegl, Fischer Connectors and Terrasolid as co-sponsors of the event. These companies have been important YellowScan technology and business partners over the years and their participation in LiDAR for Drone 2022 is a strong indicator of the health and prominence of the LiDAR sector as it moves into the future.
"The entire YellowScan Team is excited to finally be able to get back to in-person events and once again host our Global conference. So much has happened since our last LiDAR for Drone event and we will make it worth your time if you can join us," said Tristan Allouis, CTO, YellowScan. "YellowScan strongly believes in education and knowledge sharing not only with regards to our products and support, but the use of LiDAR and unmanned/manned technologies as a whole for the global community. Our event and others around the world give everyone an opportunity to become better experts in our field."
LiDAR for Drone 2022 will be held from June 13-14, 2022, in Montpellier, France.