In this article, Voyis explains the capabilities and applications of hybrid subsea vehicles, and how its technology can enhance subsea operations for these versatile vehicles.
---
Voyis' integration of our cutting-edge imaging technology in AUVs and ROVs has revolutionized the use of hybrid underwater vehicles. With the ability to capture high-resolution images and generate 3D models, process data quickly and efficiently, and make informed decisions, hybrid vehicles offer the flexibility that can make underwater operations safer, as well as saving time and money.
Hybrid Underwater Vehicles: Flexibility for Underwater Operations 
Underwater vehicles have become essential tools for various subsea operations. These vehicles come in different types, sizes, and capabilities, depending on their intended use. One of the latest trends in underwater vehicles is the development of hybrid vehicles, which can operate as autonomous underwater vehicles (AUVs) or remotely operated vehicles (ROVs).
Hybrid underwater vehicles have the advantage of combining the benefits of both AUVs and ROVs. AUVs are autonomous and can operate for extended periods, covering large areas and collecting data using sensors and cameras. On the other hand, ROVs are remotely operated and can be equipped with tools and manipulators, making them suitable for inspection, maintenance, and repair operations. Hybrid underwater vehicles can switch between these modes of operation, depending on the task at hand, allowing them to perform a wide range of subsea operations efficiently.
Hybrid underwater vehicles offer several other benefits that make them highly advantageous for subsea operations. These vehicles are highly maneuverable and can operate in challenging underwater environments, such as deep-sea trenches, wrecks, and underwater caves. They can also be deployed quickly, reducing downtime, and increasing productivity. The hybrid design of these vehicles allows for seamless switching between modes, which saves time and reduces the need for specialized equipment. Furthermore, the autonomous mode of these vehicles allows for long-term data collection, enabling operators, researchers and scientists to conduct extensive studies or surveys of the underwater environment. Overall, the versatility, flexibility, and efficiency of hybrid underwater vehicles make them an essential tool for subsea operations.
Voyis' innovative imaging technology can be integrated into hybrid vehicles to provide operators with actionable data sets using stills cameras for high-resolution imaging, and laser scanners for detailed 3D mapping. With the ability to process data onboard the sensor in real-time, these vehicles can interpret the highest quality images and 3D models subsea to enhance the performance of autonomous operation through enabling improved vehicle navigation, automating the data workflow to provide operators with results as soon as the vehicle surfaces, and optimize vehicle decision making.  Additionally, by generating the highest resolution datasets in real-time, these vehicles, and operators, benefit from visualizing/analyzing the datasets immediately topside when operating the platform as an ROV. This enables confident QC of collected data to ensure there is no time lost while performing critical inspections of subsea assets.
Proven Integrations  
Our team has worked with many underwater vehicles. Here are some of the hybrid vehicles that have proven integration with our underwater laser scanner and imaging systems.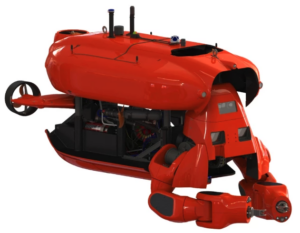 Nauticus Aquanaut 
Nauticus Aquanaut has been integrated with Voyis' camera and laser scanner for survey inspections of targets on the seabed. Additionally, Nauticus has used Voyis' cameras to support vehicle manipulation and forward looking inspections.
SAAB Sabertooth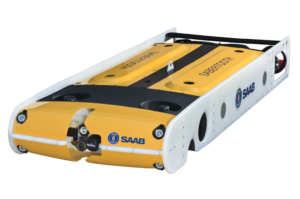 The SAAB Sabertooth has been successfully integrated with Voyis InsightPro and Observer Pro Imaging System. The vehicle and Voyis' optical sensors were used during the Endurance expedition in 2022, to map the shipwreck and surroundings in the highest quality possible.
Oceaneering Freedom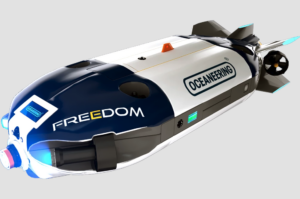 The Freedom AUV has been integrated with Voyis Insight Pro laser scanner for capturing detailed 3D data enabling the AUV/ROV to recognize pipeline features, including free-spans, depleted anodes, mattress crossings and anomalies. In addition, Voyis Observer stills camera and Nova LEDs provide high resolution stills imagery for inspection and vehicle control.
Saipem Hydrone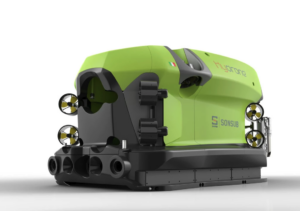 The Saipem Hydrone hybrid vehicle is capable of housing Voyis' optical payloads to support both remote and autonomous inspections of O&G assets or to identify threats and support autonomous manipulation during mine countermeasures operations.