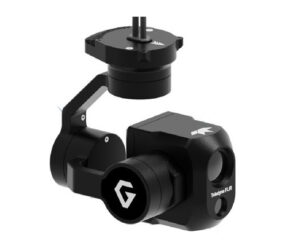 Gremsy has released the G-Hadron, an ultra-lightweight stabilized gimbal that provides drone OEMs and systems integrators with a highly stabilized plug-and-play solution for seamlessly integrating the Teledyne FLIR Hadron 640R dual-camera module into their platforms.
Weighing just 164 grams, the compact gimbal is ideal for integrating thermal and visible imaging capabilities into a wide range of UAVs (unmanned aerial vehicles). It is optimized for the Teledyne FLIR Hadron 640R, which pairs a 640×512 resolution radiometric LWIR thermal camera with a 64MP visible camera, providing the ability to operate during the day or at night, see through smoke and fog, and record temperature data for every pixel in the scene.
The industrial-grade gimbal supports Pixhawk, CubePilot and Skynode flight controllers, and supports USB 2.0, UART and SBUS communications. It can be provided with a standard damping system, or Gremsy can custom-engineer a tailored solution to meet specific user requirements.
The G-Hadron is ideal for a wide range of use cases, including firefighting, utilities inspection, search and rescue, and more.