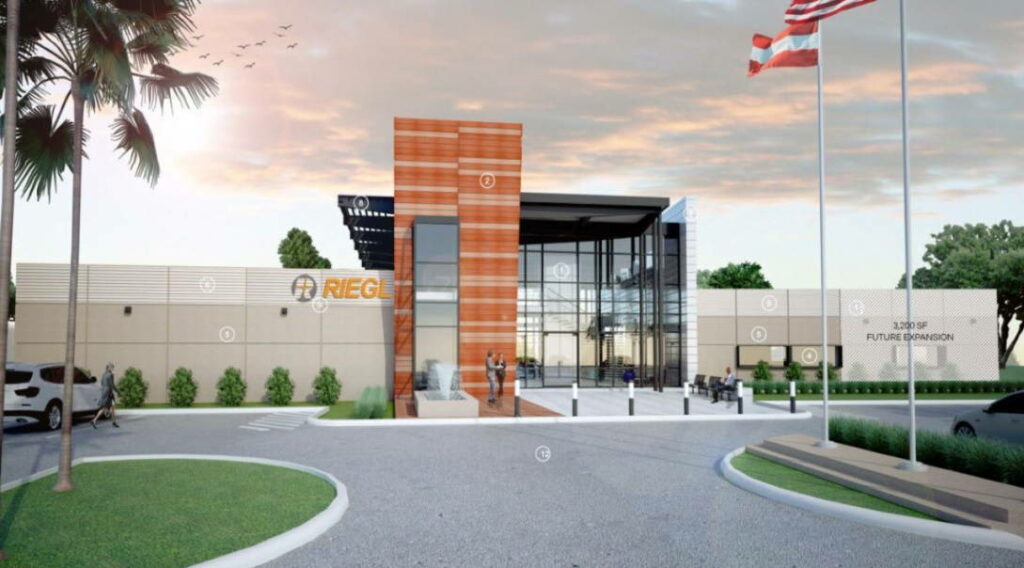 RIEGL USA has relocated to a new state-of-the-art headquarters and training center in Winter Garden, Florida. The new premises have been financed by the RIEGL Group, and the investment reflects the continued success and growth of RIEGL in the North American market.
The new 18,500 square foot facility is located on a 19 acre site, and has been designed with future growth in mind. The multi-million-dollar complex features modern training rooms and service areas including climate chambers and laser test ranges for equipment testing and calibration, a customer support center, a distribution hub, and sales and administration offices. Visitors will be able to make use of a helicopter landing pad which will become operational in the near future.
Constructors of the new facility, DPR Construction, have used UAVs (unmanned aerial vehicles) as well as RIEGL LiDAR terrestrial scanners to document and monitor site progress.
Due to current COVID-19 travel restrictions, the official Grand Opening and ribbon-cutting ceremony will be delayed and take place in 2021 after restrictions are lifted.
Johannes Riegl, Jr., President of RIEGL USA, commented: "Over the last couple of years, we have continuously grown our business here in North America and this new facility resembles that continued growth. The support of our headquarters in Austria has been critical to the development of this amazing building we are now in."