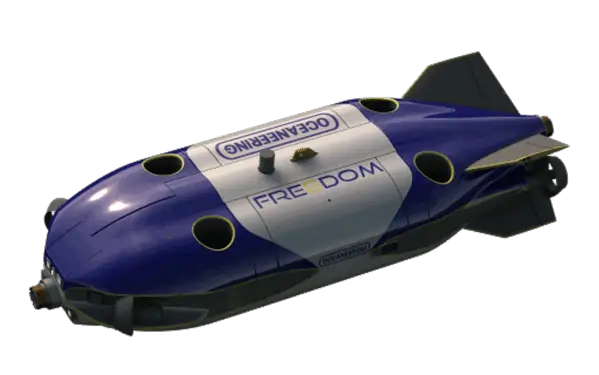 Sonardyne Inc. has announced that Oceaneering International has ordered the company's hybrid underwater navigation systems for its subsea resident unmanned vehicles Freedom and E-ROV.
The two resident vehicle systems are to be fitted with the SPRINT-Nav all-in-one navigational instrument. SPRINT-Nav combines a SPRINT INS sensor, Syrinx 600 kHz DVL (Doppler velocity log) and a high accuracy intelligent pressure sensor in a single unit, making it one of the smallest and highest performing combined inertial navigation instruments on the market.
Oceaneering's E-ROV has already proven the ability for battery powered remotely operated vehicles (ROVs) working in the oil and gas industry to be piloted from shore, via 4G mobile broadband transmitted from a buoy, independent of support vessels. The company's next-generation resident hybrid ROV Freedom builds on the E-ROV concept. Due to debut in offshore trials later this year, Freedom is targeting long, maintenance free-deployments, on autonomous missions and with support from shore-based pilots.
The vehicle will be based out of docking stations on the seabed, enabling it to recharge and download data before and after its subsea inspection, maintenance and repair missions. It will operate in tethered and autonomous tetherless modes, performing both AUV and ROV related tasks, including survey, inspection, torque tool operation and manipulator-relator activities.
"Both of these systems have been developed to drive a step-change in inspection, repair and maintenance operations in subsea oil and gas fields, to help both increase uptime, operational flexibility and autonomy. A single hybrid instrument for their navigational needs," said Jami Cheramie, Senior Manager for Technology and Development at Oceaneering.
"Tight integration of the separate sensors within SPRINT-Nav as well as the use of high-specification Ring Laser Gyros are behind the high performance our customers are seeing from these units. Combined with their compact form factor, these results are seeing SPRINT-Nav fast becoming the INS instrument of choice for resident vehicles," said Char Franey, Sales Manager for Survey and Construction at Sonardyne in Houston.
"They're free from the calibration routines otherwise required and, because they also run on a unique dual engine algorithm, powering the INS and Gyro compass, initialisation is fast and gaps in navigation are few and far between. Thanks to these qualities, SPRINT-Nav is not only ideally suited to subsea resident vehicle applications, but also autonomous and unmanned underwater vehicle (AUV/UUV) navigation."