Webinar Details
Hosted by Blue Marble Geographics
January 25, 2023 , 13:00 (UTC)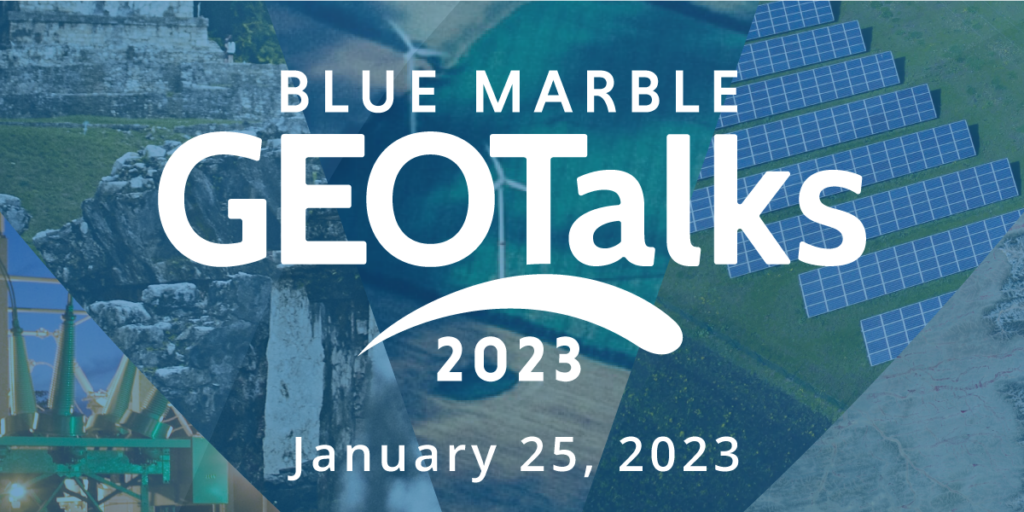 Blue Marble GeoTalks® 2023 is a free virtual conference for geospatial professionals and GIS enthusiasts who share a common interest in Blue Marble's geospatial technology. Scheduled for Wednesday, January 25, this daylong event will feature several distinguished speakers who will share their expertise and experience using Blue Marble software in a variety of geospatial fields.
Included in the 2023 program are:
Peter van de Loo, Wind Energy GIS Consultant, will demonstrate how to conduct a white space analysis with Global Mapper;
Jesse Huff, Vice President of JAVAD GNSS, will provide an introduction to satellite navigation;
Forrest Briggs, Chief Operations Officer of LiDARUSA, will illustrate how, with the help of Global Mapper, his team was able to visualize ancient tombs;
David Doyle, CEO of Base 9 Geodetic Consulting Services, will explain the rationale and expectations for the upcoming datum changes;
Eduardo Islas Perez, Electrical Industrial Engineer, will demonstrate the Classification of Point Clouds for an Electrical Substation; and
Natalie Findlay, Director of Engineering at Intermap Technologies, will show how geospatial analysis is performed using premium online data in Global Mapper.
The agenda will also feature Blue Marble product managers as they introduce the latest features and functions of Global Mapper, Global Mapper Mobile, Geographic Calculator, and GeoCalc Online.
Registration is required, and space is limited, be sure to reserve your seat as soon as possible. If you are unable to attend the entire live event, your registration will provide access to recordings of all the presentations.