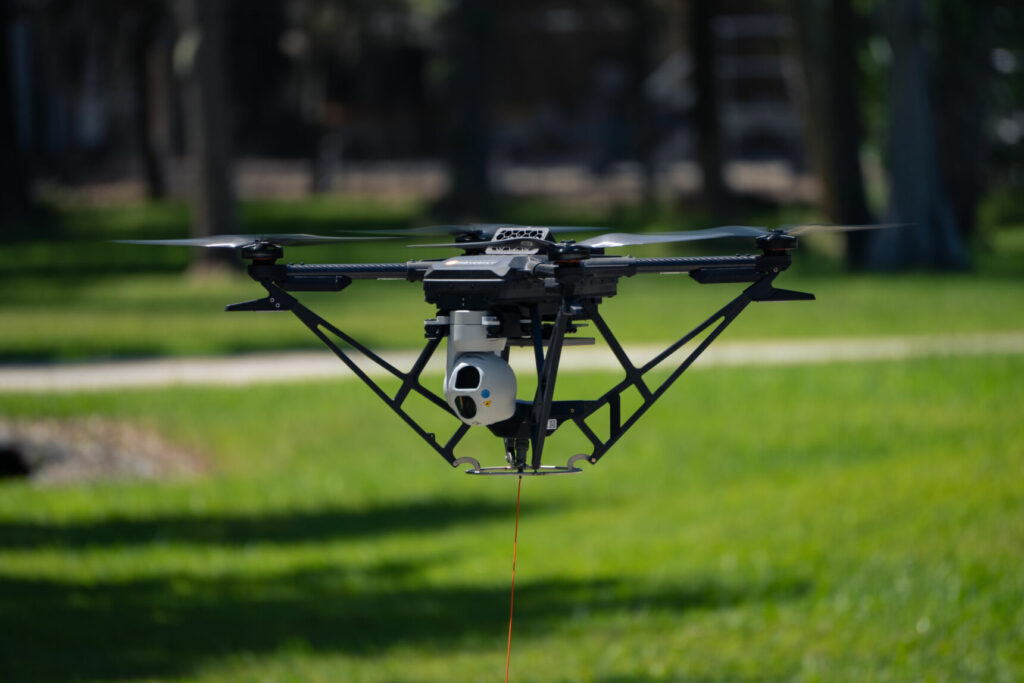 Trillium Engineering's HD40-LV camera has been integrated into Hoverfly Technologies Spectre unmanned aerial system (UAS).
This strategic business transaction marks a significant step towards elevating drone capabilities across various industries and is said to be the first of many integrations with Hoverfly's tethered-UAS.
The HD40-LV comes as an EO/IR system, comprising a 10x optical zoom visible camera paired with a fixed focal length uncooled LWIR camera. This enables users to acquire intricate visuals across both visible and infrared spectrums, presenting a comprehensive panoramic perspective of your environment.
Furnished with an array of sophisticated software attributes, the HD40-LV distinguishes itself by delivering exceptional performance. Its adeptness in scene and target tracking guarantees persistent focus on subjects, even amidst dynamic scenarios. The gimbal has unparalleled sturdiness and steadiness, enabling users to capture seamless and well-defined footage with high accuracy and assurance.
The HD40-LV seamlessly incorporates onboard GPS/INS technology, further augmenting its capabilities. This amalgamation ensures precise positioning and seamless geolocation functionality, culminating in meticulous navigation and high-fidelity target tracking.
Hoverfly's Spectre UAS stands as a resilient multirotor small UAS driven by tether power, purpose-built for radio applications. Its current application spans Intelligence, Surveillance, and Reconnaissance (ISR) as well as Communications Relay. The integration of Trillium Engineering's hardware for the HD40-LV adds a significant advantage that forms a drone platform that excels across diverse applications.
Spectre boasts unmatched situational awareness features for dismounted leaders and incorporates a replaceable open architecture payload bay, offering continuous ISR capabilities and expanding communication range over extensive distances in miles/kilometers. This variant delivers comprehensive autonomous flight through full auto-piloting, precise take-off and landing functions, and a battery backup system that ensures automated landing in instances of power or communication disruption.
This strategic integration exemplifies Hoverfly Technologies' commitment to advancing unmanned aerial systems, leveraging the unparalleled capabilities of Trillium Engineering's HD40-LV camera. As the UAS landscape continues to evolve, this new partnership sets a precedent for dynamic collaborations that redefine industries and pave the way for transformative solutions.