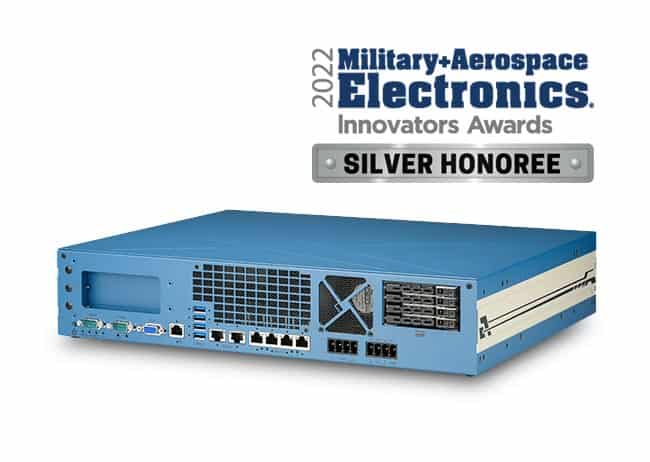 An esteemed and experienced panel of judges from the aerospace and defense community recognized Neousys Technology as a Silver honoree at the 2022 Military + Aerospace Electronics Innovators Awards. The company's Rugged HPC Server RGS-8805GC was recognized among the best by the panel.
Neousys RGS-8805GC is one of the industry's first rugged edge HPC servers enabling field deployments. It is powered by the AMD EPYC 7003 series "MILAN" processor with up to 64 cores/128 threads and supports a high-end NVIDIA RTX A6000 or A4500 GPU. Featuring -25°C to 60°C wide-temperature operation in a compact 2U 19″ rack-mount enclosure at only 350mm deep, it is also shock/vibration resistant and accepts 8 to 48V DC input voltage.
With additional PCIe expansion slots to install function cards for sensors, automotive cameras and LiDARs, the RGS-8805GC can provide an all-in-one system with sensing, perception, and planning functions for ADAS in Unmanned Ground Vehicles (UGVs).
"On behalf of the Military + Aerospace Electronics Innovators Awards, I would like to congratulate Neousys on their Silver–level honoree status," said Military + Aerospace Electronics Editor in Chief John Keller. "This competitive program allows Military + Aerospace Electronics to celebrate and recognize the most innovative products impacting the aerospace and defense community this year."
"Most HPC servers can only operate in an air-conditioned room. But with Neousys' thermal design expertise, we were able to create a unique 3-partition enclosure for an HPC server to be deployed out of air-conditioned rooms, and into extreme environments," said Chris Ni, Product Director of Neousys Technology. "For military applications, complex calculations and analysis require processing time, and a rugged HPC server can overcome these problems. In addition, the RGS-8805GC can provide ADAS capability for unmanned vehicle applications, such as remote task execution in hazardous areas."