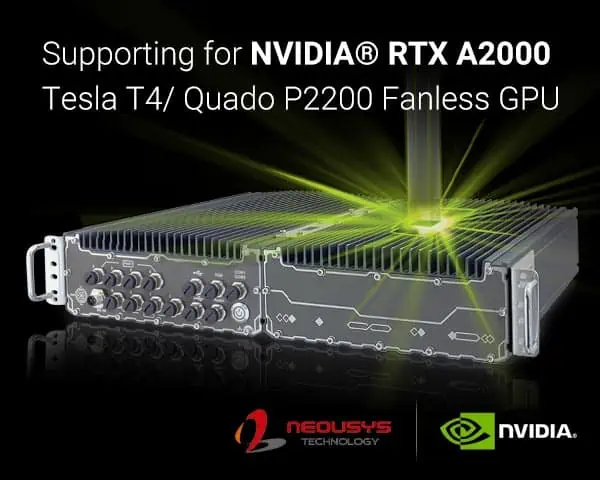 Neousys Technology has added support for the NVIDIA RTX A2000 Ampere GPU card to its SEMIL-1700GC series.
Originally supporting the NVIDIA Tesla T4, the IP67 fanless SEMIL-1700GC can now deliver the same GPU performance at a much more effective cost.
Aiming for military-grade toughness by withstanding environment or climatic factors, such as high chemical content, byproduct concentration, or atmospheric conditions at seaports, food, chemical, production lines, etc., SEMIL computers can offer durability, reliability, and AI inference processing power at the edge.
Featuring Neousys patented system architecture constructed from a monoblock stainless steel and aluminum reinforced enclosure with specialized molded O-rings, this extreme-rugged construction withstands water, dust, and corrosion inside and out. Also, with an efficient thermal performance, the system can operate up to 70°C or up to 62°C with the CPU and GPU working under full load without performance degradation.
In addition to the rugged construction, the system is equipped with robust M12 connectors and complies with MIL-STD-810G for intensive shock and vibration conditions.
SEMIL offers a variety of I/O connectivity, including 802.3at Gigabit PoE+, VGA, USB, COM ports, and optional 10G Ethernet. By supporting 8 to 48V wide-range DC input with ignition power control and EN 50155, it is also ideal for in-vehicle deployments.
"As one of the pioneers of edge AI computing, Neousys is dedicated to breaking through boundaries and exceeding industrial embedded computer limitations to bring AI processing power from laboratories to field applications," said Chris Ni, Product Director at Neousys Technology. "With the recent chip shortage crisis, the added support of NVIDIA RTX A2000 brings greater flexibility and cost-effectiveness."