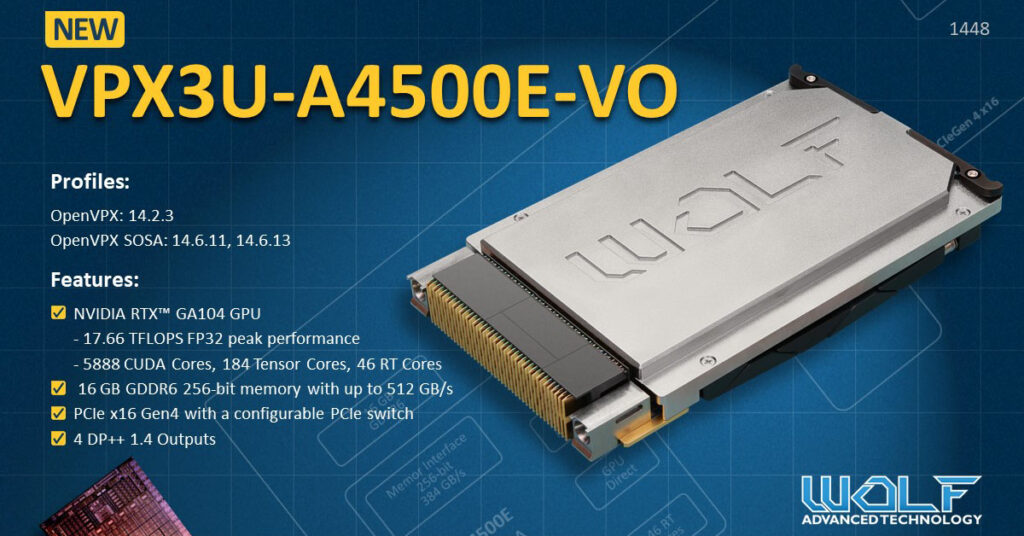 WOLF Advanced Technology has announced the VPX3U-A4500E-VO (WOLF-1448), powered by NVIDIA, designed to enable the highest performance 3U VPX, tactical edge, GPU-centric module suitable for applications such as C5ISR, AI, radar processing, and situational awareness. 
This module is available with SOSA aligned and OpenVPX profile options.
The WOLF VPX3U-A4500E-VO features an NVIDIA® RTX™ 4500E embedded GPU, with a peak performance of 17.7 TFLOPS FP32, 5888 CUDA Cores, Tensor TFLOPS 68 (dense) / 136 (sparse), 184 third generation Tensor Cores, 46 second generation RT Cores, 4 DP++ outputs, 16GB of GDDR6 256-bit memory with up to 512 GB/s memory bandwidth and ECC support.
The GPU is fabricated using an 8nm manufacturing process, which can achieve a very power efficient 154 GFLOPS/Watt. This 3U VPX module also includes a configurable PCIe Gen 4 switch which provides support for SOSA aligned 14.6.11 and 14.6.13 and OpenVPX profiles.
"Our customers are demanding the highest possible performance in a 3U VPX form factor and NVIDIA is helping us fulfill this demand with the latest generation NVIDIA Ampere A4500E GPU, with up to 17.7 TFLOPS FP32 peak performance, third generation Tensor cores, and the latest CUDA, CUDA-X AI and CUDA-X HPC GPU-accelerated libraries," said Greg Maynard, CTO of WOLF.
"The WOLF-1448 will also be the first product to take advantage of WOLF Advanced Metal, which will provide lower thermal resistance between the GPU and the chassis cold wall, allowing the GPU to run at higher power levels which will allow it to achieve higher performance."