Webinar Details
Hosted by SBG Systems
February 17, 2022, 16:00 (UTC)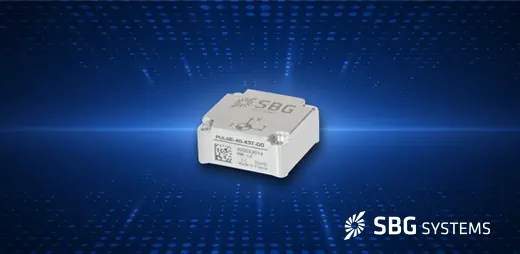 Join this webinar to learn about the Pulse-40, the new miniature, MEMS-based, Tactical Grade Inertial Measurement Unit (IMU) designed and developed by SBG Systems for demanding applications, spanning Aerospace to Autonomous Systems.
Our expert speakers will:
Deliver a technical presentation of the Pulse-40, and focus on its key advantages: affordable, tactical grade performance, with Industry leading size, weight, and power (SWaP), all in a package designed to facilitate ease of integration.
Discuss the potential markets and targeted applications for the IMU such as robotics, mapping, autonomous vehicles, pointing and stabilization, navigation, and attitude control. Describe the Pulse-40 advantages over the next best alternatives and how the specific performance parameters and characteristics of the IMU serve the various market segments.
Present the Pulse-40 industrial process from raw material to IMU final acceptance test. This includes the facilities, calibration and validation software from the test scenario to the automatic report available on the cloud, qualification for IMU performance with the statistical analyses from the database using calibration and validation data, including specific tests like vibration and the cluster technology for MEMS sensor data fusion.
Speakers:
Alexis Guinamard, CTO and Co-Founder of SBG Systems
Shaun McGuigan, Global Business Developer, Aerospace and Defense markets at SBG Systems
Emeric Lemercier, Tests and Qualifications Engineer at SBG Systems