SeeByte develops smart software for underwater vehicles, sensors and systems in both the Military and Oil & Gas sectors, with products and services provided to major government and commercial clients around the world.
Military & Security


Unmanned Underwater Vehicles (UUVs) are used extensively in subsea operations for military and coastal security. Navies around the world use UUVs to conduct Mine Countermeasures (MCM) missions, with the vehicles primarily used to detect, classify, identify and localize mines. Irrespective of the mission the need for situational awareness within the underwater battle-space is essential in creating a safe environment for human operators.
SeeTrack Military


SeeTrack Military is a commercially available, equipment independent mission planning, monitoring and post-mission analysis tool. The smart software solution provides users with the capability to rapidly plan a mission, gather data and integrate it into one layered image of the underwater space, providing actionable information and fast results when it matters most. SeeTrack Military is designed with the operator in mind. This unique system has been effectively utilized within numerous military & security exercises, surveys and operations, and has been chosen by nineteen of the world's navies to optimise operations involving unmanned underwater vehicles.
More: SeeTrack Military
Additional modules
A number of additional modules are available for SeeTrack Military, which allow military and security operations to be completed quicker, safer and more cost-effectively:
ATR (Automatic Target Recognition) Module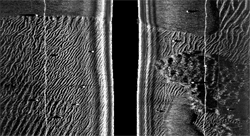 The ATR module generates models with the aim of highlighting possible targets for rapid operator-assisted processing of the data. A Computer Aided Classification (CAC) component is used to determine how 'mine-like' an identified target is, and with this information the operator is able to decide whether the MILOC is a mine or false alarm.
More: Automatic Target Recognition
Seafloor Classification Module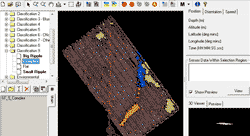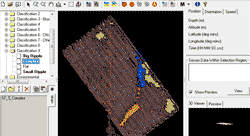 The Seafloor Classification Module accurately distinguishes different seafloor types using side-scan sonar, and has been designed to address the needs of both inexperienced and experienced users. Inexperienced users are able to classify the seabed at the touch of a button, while expert users are able to delve into the process of defining the different classifications of seabed, without having to work with complex algorithms.
More: Seafloor Classification
Change Detection Module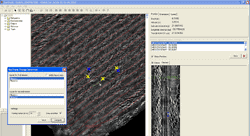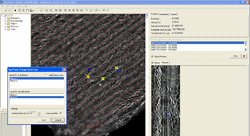 The Change Detection module is used to fuse and compare side-scan sonar data to highlight any significant changes, allowing operators to identify changes rapidly, even while working in the field, without the requirement for side by side comparison of current vs historic images. The Change Detection module operates at the contact level, which considers the location and spatial distribution of the targets within the surveyed region to flag possible new threats. Unlike operating on the raw sonar image, contact level operation doesn't require running the same vehicle and sonar setup through exactly the same mission plan, which is highly susceptible to changes in the environment and requires a level of navigational accuracy which is difficult to guarantee.
More: Change Detection
PATT (Performance Analysis & Training Tool) Module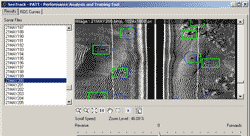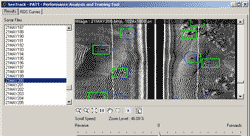 The Performance Analysis and Training Tool (PATT) module is used to assess the MCM capabilities for a complete MCM system, including automatic target recognition and human operator performance. PATT inserts multiple simulated mine targets into real side-scan sonar data allowing accurate quantitative estimates to be obtained.
More: Performance Analysis & Training Tool
Offshore & Subsea


In the Oil and Gas industry, Remotely Operated Vehicle (ROV) and Autonomous Underwater Vehicle (AUV) systems are utilized for surveys, underwater structure & pipeline inspections and construction support, and smart software technology can be used to make operations more efficient and consistent. SeeByte helps to automate repetitive and arduous tasks, allowing operators to focus on the job at hand with a higher level of confidence in vehicle control, which has been proven to halve the time of many subsea tasks.
SeeTrack AutoTracker


SeeTrack AutoTracker software enables AUVs to detect and track a pipeline using existing payload sensors, ensuring that the correct and most accurate data is gathered throughout the entire survey. The technology provides improved inspection data, reductions in operation time due to fewer repeat missions, and is able to reason logically when faced with multiple pipelines or unexpected burials.
More: SeeTrack AutoTracker
SeeTrack CoPilot

SeeTrack CoPilot is an advanced software package with a straightforward, intuitive point and click interface, making piloting an ROV a much simpler task. The software permits pilot controlled auto-transit and stop-and-hover, whilst providing automated sonar tracking and movement relative to a target. The control and flexibility offered on-survey allows for un-planned intervention with minimal error and down-time, while a fully-integrated Multi-Beam Imaging (MBI) sonar enables control relative to a target and improves operations in low visibility.
More: SeeTrack CoPilot
SMART PARTNERSHIPS
SeeByte forms partnerships with leading manufacturers of unmanned underwater vehicles and sensors to provide enhanced capabilities for their systems. This capability provides turn-key robotic solutions capable of carrying out complex and often risky operations safely and efficiently.
Bluefin Robotics


SeeByte's partnership with Bluefin Robotics couples the Bluefin-21 AUV with SeeByte's SeeTrack AutoTracker software system, allowing the AUV to detect and track a pipeline using existing payload sensors. This improves the pipeline inspection data, reduces mission time and provides the ability to reason logically when faces with multiple pipelines or unexpected burials.
Soil Machine Dynamics (SMD)


SeeByte's partnership with SMD integrates SMD's work-class ROV systems with SeeByte's CoPilot software, allowing for dynamic positioning and real-time monitoring of the ROV, and improving the ROVs overall capabilities.
Subsea 7


Subsea 7 has collaborated with SeeByte to develop a unique hover-capable Autonomous Inspection Vehicle (AIV). Specialist software allows dynamic control of the vehicle, which is routinely in Subsea 7 Life-of-Field (LoF) projects for visual inspection.
Teledyne BlueView

Teledyne BlueView provide state-of-the-art acoustic underwater imaging, measurement and automation solutions. SeeByte's advanced tracking analytics has been integrated into Teledyne BlueView's ProViewer Plus software, providing advanced real-time target tracking.
VideoRay


VideoRay develops Inspection Class ROV technology for reliable underwater operations. VideoRay's collaboration with SeeByte adds navigation, real-time monitoring and DP (Dynamic Positioning) control to the Pro 4 Inspection Class ROV.
EdgeTech


EdgeTech designs and manufactures advanced underwater sonar imaging systems for survey, detection and identification. SeeByte's Automated Target Recognition (ATR) software has been integrated on EdgeTech's Littoral Mine Countermeasure SONAR (LMCS), providing extraordinary detection and classification proficiency in a variety of available platform configurations.
Seatronics


Seatronics is a marine technology rental specialist. Seatronics' Predator Inspection-class ROV has been developed for a wide range of markets, and SeeByte has integrated SeeTrack CoPilot software in order to simplify the piloting of the ROV and enhance its capabilities.