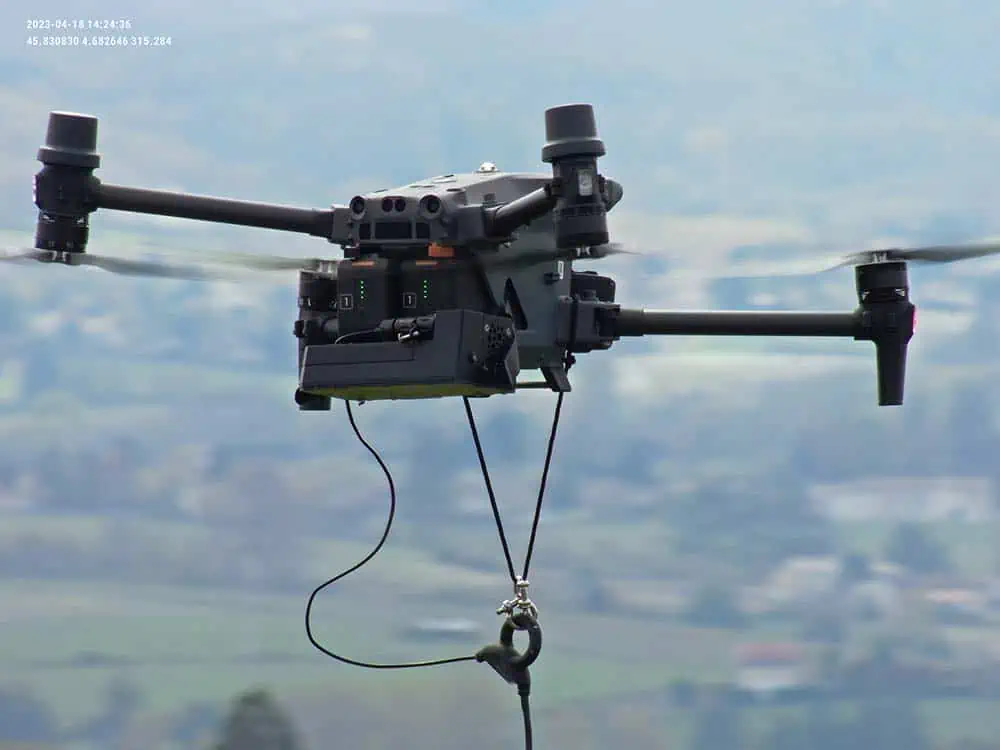 Elistair has unveiled a new tethered power module for the DJI M30 drone, compatible with the Ligh-T and Safe-T Ground Power Stations and allowing hours of uninterrupted flight up to 70 meters in height.
Designed for police, firefighters, and first responders who require a continuous aerial view with minimal logistical impact, the new retrofit module allows operators to benefit from the M30's capabilities for more extended-duration missions such as event protection, firefighting, border surveillance, and response support.
The onboard module allowing the tether power supply weighs just 500g and is easily fixed at the back of the drone. It offers a continuous power of 1,000 Watts, allowing hours of flight at 70 meters without interruption, at temperatures between -20°C and +50°C. It also allows the operator to quickly switch from free flight mode to captive flight mode.
"Our goal is to offer great flexibility to Law enforcement and first responders by continuously enhancing our compatibility with the most suitable drones for security missions," said Guilhem de Marliave, Elistair CEO. "We offer the widest range of air modules, and the development of a module dedicated to the DJI M30 was highly anticipated. The main challenge was to develop a module that was light and powerful enough to allow operators to fully exploit the observation capabilities of the M30 thanks to an optimal flight altitude."
With a wide range of air modules, a single Elistair station can be connected to more than 40 UAVs, allowing operators to choose the most appropriate solution for each mission.
Elistair is organizing an online demonstration of its new DJI M30 module on April 27. Registration is open to all: https://elistair.com/online-events/