DeltaQuad is a leading developer of VTOL fixed-wing UAVs (unmanned aerial vehicles) for a wide variety of commercial and professional applications. UST is delighted to welcome DeltaQuad on board as a supplier partner, and we will be highlighting their unique solutions and capabilities across our channels over the next 12 months.
We've just launched DeltaQuad's UST supplier profile, which has been written and built by our team in collaboration with the company. The Silver profile showcases their unmanned aircraft platforms, which are constructed from high-quality components, including aerospace-grade wiring and military-grade connectors, and are rigorously tested under extreme conditions.
Read on to find out about DeltaQuad's hybrid VTOL UAV platforms: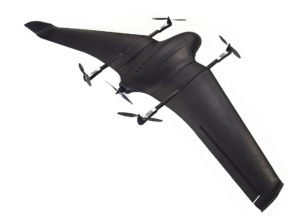 The DeltaQuad Pro series of fully electric UAVs is designed for high stability in both quadcopter and fixed wing mode, transitioning smoothly between the two and providing flight times of up to 110 minutes and operational ranges of up to 100 km.
With a 1.2kg payload capacity, DeltaQuad Pro can field a wide variety of payloads, including image and video cameras, environmental sampling sensors, and custom integrations. DeltaQuad Pro is available in a number of specialized variants.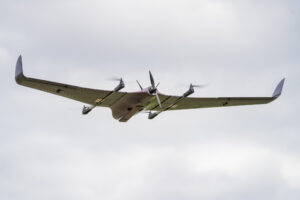 The DeltaQuad Pro #CARGO is an industrial-grade VTOL fixed-wing UAV designed for cargo transport and integration of custom payloads. Featuring a large payload bay directly over the centre of gravity of the aircraft, the rugged aircraft is constructed from EPO plastic foam, giving it high resistance to impact.
The unique payload bay mechanism, allowing the drone to drop cargo with or without parachutes, can be programmed to release as part of an autonomous flight plan, or directly remote controlled via the GCS. The bay can hold packages measuring up to 15 x 10 x 9 cm and weighing up to 1 kg.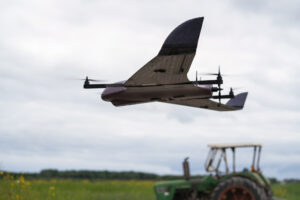 The DeltaQuad Pro #MAP is a commercial-grade VTOL fixed-wing mapping UAV with a fully integrated payload mount that fits a variety of high-grade camera payloads from leading manufacturers including Sony and Micasense.
The aircraft is fitted with a toughened Asahi Dragontail glass window in the bottom of the payload bay, protecting camera payloads from dust or damage during takeoff and landing. Covering up to 1200 hectares in a single flight, the DeltaQuad Pro #MAP can achieve a resolution of 3cm/px, with centimetre-level accuracy available with a PPK payload option.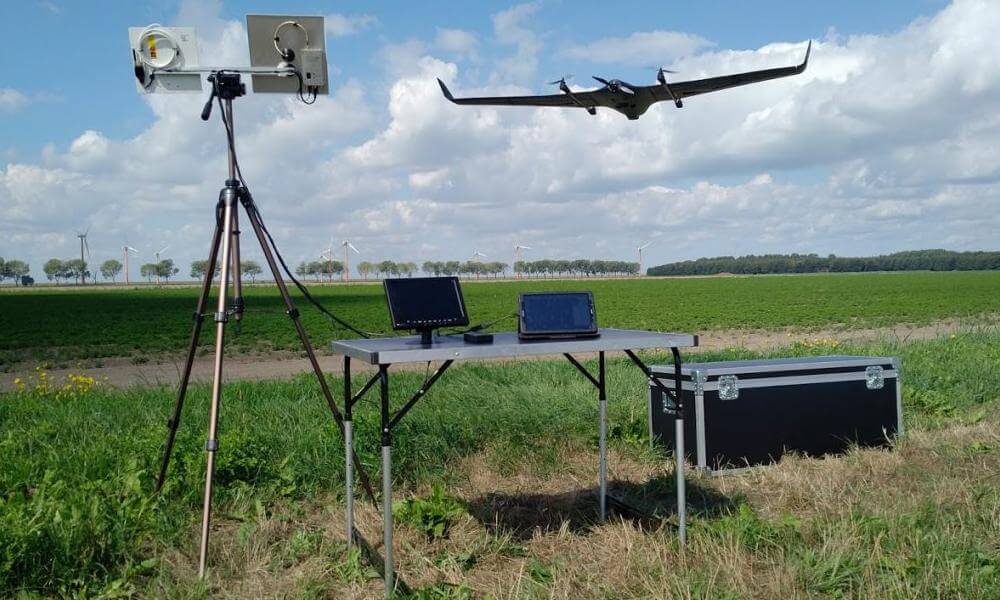 The DeltaQuad Pro #VIEW is a commercial-grade VTOL fixed-wing UAV for high-end surveillance applications, with a variety of payload package options ranging from static RGB cameras to controllable EO/IR gimbals, all matched with a carefully selected video transmission system for optimal quality and range.
The fully autonomous or remote-controlled DeltaQuad Pro #VIEW features a flight endurance of up to 110 minutes, with the ability to cover up to 100 km in a single flight.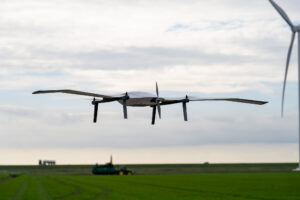 The most recent release from DeltaQuad is the Evo – a next-generation eVTOL UAV. Designed for businesses and governments, the Evo stands out in both payload flexibility and endurance. The platform can integrate up to two single payloads, or one double, allowing the combining of sensors for multiple uses in one flight or even carrying an extra battery to fly for up to 4.5 hours.
To find out more about DeltaQuad and their versatile hybrid VTOL UAV platforms, please visit their profile page: https://www.unmannedsystemstechnology.com/company/deltaquad/