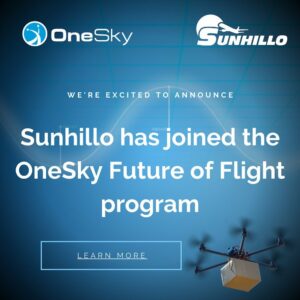 Sunhillo Corporation has signed on to be a member of the OneSky Future of Flight program in order to combine the company's access to air traffic surveillance sources with OneSky's innovative UTM platform to enhance situational awareness and BVLOS operations support.
Sunhillo is a mission-critical data interoperability expert, providing next-generation technology for the FAA, US military, and worldwide civil aviation authorities. The company offers robust products, enabling surveillance data format conversion, filtering, and track fusion.
Specializing in interfacing legacy data communication and surveillance protocols to mainframe and distributed systems, Sunhillo solutions include Surveillance data, Receive and Decode ADS-B, Surveillance Monitoring & Display, TDM to IP, Data Diode, and UAS Integration and situational awareness.
"Sunhillo has extensive global experience in the normalization and fusion of disparate air traffic data sources," said Bill Beuth, Head of Customer Operations, OneSky. "Sunhillo's addition to the Future of Flight ecosystem will drastically accelerate our user's ability to see critical situational awareness information in the UTM."
"Sunhillo leverages our 30+ years of Air Traffic Control surveillance systems experience to OneSky's UTM providing enhanced situational awareness and safety," said Sunhillo's Director of Marketing, Doug Walczak. "Combining Sunhillo's surveillance solutions with OneSky's already robust UTM will provide smooth and safe integration into ATC systems worldwide."