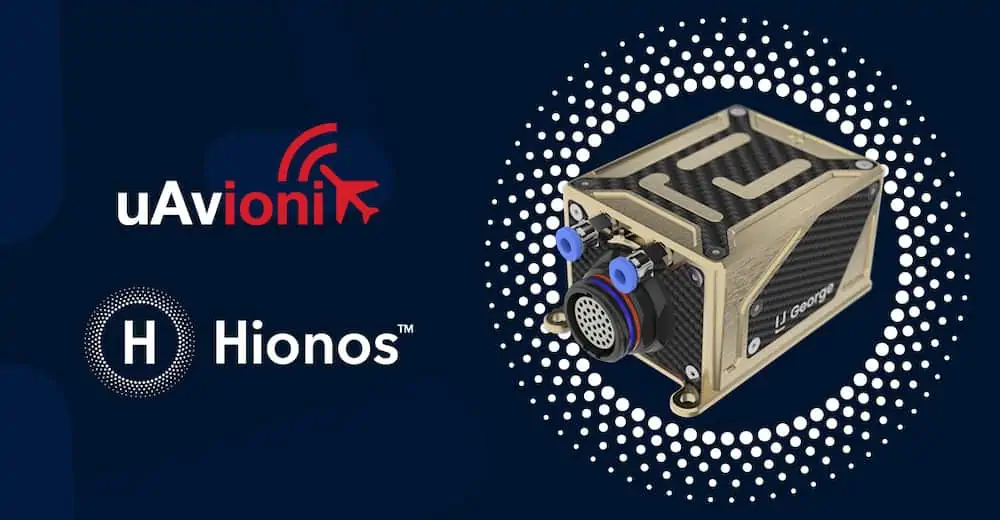 uAvionix and the Hionos team have announced the successful integration of the Hionos DO-178C compliant Pulsar autopilot software on the DO-254 and DO-160G compliant hardware of the uAvionix George G2 and G3 autopilots.
Meeting these demanding standards will significantly advance the process of type certification for Unmanned Aerial Vehicles (UAVs) engaged in safety critical operations.
In 2021, uAvionix and Hionos set out on a project to integrate Hionos DO-178C compliant software autopilot Pulsar onto the George G3 autopilot, based on the Cube system. The team's efforts culminated in a successful demonstration during flight tests performed in France by Hionos and supported by uAvionix teams in Montana and Iowa, US. This integration included the use of the uAvionix truFYX FAA TSO Certified GPS, adding high integrity certified GPS for a completely certified drone ecosystem.
"We are very proud to be able to pair our certifiable Pulsar autopilot software on a certifiable autopilot hardware design," said Valentin Brossard, Chief Executive Officer of Hionos. "Achieving a fully certifiable autopilot package is one of the essential building blocks to type certification for UAS."
"With this new capability, uAvionix is now one step closer to its goal of providing a fully certifiable ecosystem for critical UAS applications," said Ryan Braun, Chief Operating Officer of uAvionix. "We're excited to work with Hionos, who share our passion and understand the rigorous testing and design needed to achieve certification for aviation grade applications."
The flexible Pulsar factory, design and development environment enables the Pulsar autopilot to meet specific customer airframe specifications, while delivering highly safe, certifiable autopilot software. By meeting DO-178C's standards, Pulsar helps manufacturers to perform safety critical operations.
George combines the robustness of certifiable DAL-C hardware with a high integrity aviation GPS, C2 Radio, airspeed, Detect and Avoid (DAA), and military-grade geomagnetic sensors for unprecedented accuracy and platform integrity. Paired with other certified avionics such as the ping200X Mode S / ADS-B transponder and skyLink C-band command & control radios, George forms the heart of an entirely certificable UAS ecosystem.