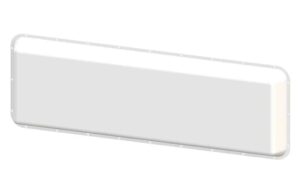 Southwest Antennas has released a new directional sector antenna that can be used for Link 16 tactical military data link networks as well as ADS-B aircraft tracking and safety systems for both manned aviation and UAVs (unmanned aerial vehicles).
The new antenna operates from 969 – 1,206 MHz and offers 17.8 dBic peak gain. The antenna's Right Hand Circular Polarization (RHCP) allows for long-range RF link performance through varied atmospheric conditions.
The sector antenna also features a TNC(f) RF connector, and includes a mounting kit with compatibility for 2 – 4″ outside diameter pipes or tower mounts, with a user-adjustable +60° / -60° elevation tilt.
To view the full specifications of the new antenna or download a datasheet, visit the product page on Southwest Antennas' website.