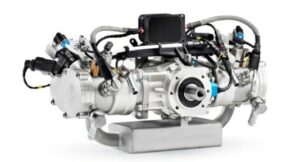 RCV Engines has released a technical article outlining the development of switchable multi-fuel technology for their engines for small unmanned aerial vehicles (UAVs) and other platforms. The technology provides the ability to run on any fuel at any time without compromising the efficiency or reliability of the engine.
RCV Engines has achieved this with a combination of a heavy-fuel rotary-valve combustion engine and an ECU (engine control unit) equipped with Multi-Fuel Switchable Maps (MFSM).
Download the full article here
The article covers:
Ideal conditions for achieving rapid, reliable and efficient combustion engine operation
How RCV's rotating valve technology fulfils these conditions
How the system firmware was upgraded and equipped with calibration maps for multi-fuel operation
The use of diesel as an emergency fuel
Key RCV multi-fuel operating characteristics
RCV is currently involved in various multi-fuel projects, including fixed-wing and rotary-wing UAVs, both direct drive and hybrid. To find out more, read the full article here.