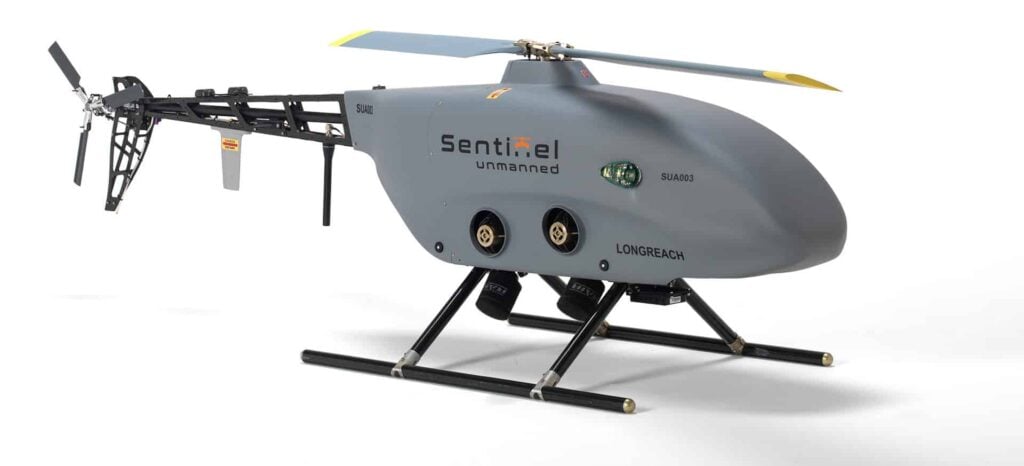 RCV Engines, a specialised manufacturer of small multi-fuel propulsion systems for unmanned aerial vehicles (UAVs), has confirmed that their DF70LC heavy fuel engine has been incorporated into a new unmanned helicopter designed and manufactured by Sentinel Unmanned.
Read the full case study here.
The Sentinel Longreach 70 UAV is a small unmanned rotorcraft that has been designed for long-range operation in a variety of conditions, including hostile climates and terrains as well as maritime environments. Sentinel required a maximum endurance of 8 hours, a maximum payload capacity of 6kg and heavy fuel operation, and selected RCV's DF70LC engine to build the platform around.
RCV's DF70LC propulsion system is a 70cc twin-cylinder engine that features liquid cooling and delivers an excellent power-to-weight ratio. The airframe design and integration of the engine were performed in close collaboration with RCV, in order to develop a specification that would allow the design goals and aircraft specification to be fully realised.
Other advantages of the DF70LC engine include:
Efficient mixture preparation due to patented rotary valve system
Remote starting using multiple fuels including JP5, JP8 and Jet A1
Inbuilt heaters and efficient combustion
Long MTBO (mean time before overhaul) of up to 150 hours for rotary-wing platforms
To find out more about RCV's DF70LC heavy fuel engine and its advantages as a solution for Sentinel's unmanned helicopter design, read the full case study here.