RCV Engines, a leading manufacturer of small multi-fuel engines for unmanned aerial vehicles (UAVs), has partnered with Unmanned Systems Technology ("UST") to demonstrate their expertise in this field. The 'Silver' profile highlights how their combustion systems, providing high fuel efficiency, low emissions, and an excellent power-to-weight ratio, can be used in small fixed-wing UAVs, VTOL multi-rotor UASs and hybrid/power generation applications.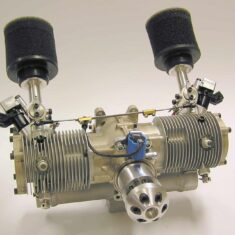 RCV's UAV engines are easy to calibrate and provide consistent performance over a wide range of ambient conditions, running on gasoline or heavy fuel (Jet-A1, JP5, JP8), as well as diesel under controlled conditions.
The DF70 Twin Cylinder UAV Engine is a 70 cc multi-fuel 4-stroke engine designed to military specifications for the aerospace market. It is suitable for both VTOL and fixed-wing unmanned aircraft, offering superior fuel economy, quiet running and excellent starting reliability. The DF70 also features a boxer configuration for minimal vibration, as well as rotation options for either pusher or tractor configurations. A "limp home" mode offers the ability to run the engine on just one cylinder.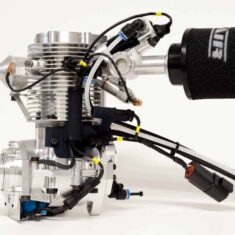 The DF35 Single Cylinder UAV Engine is a single-cylinder version of the DF70 with a capacity of 35cc and a power output of 2.2kW. Featuring a reduced footprint for small unmanned aircraft applications, the DF35 can be used as a direct replacement for existing 2-stroke engines, providing upgrades in reliability, quality and multi-fuel operation.
RCV Engines also offer a custom UAV engine design, development and manufacturing service that provides solutions to unique engine requirements. RCV's experienced engineers can work with clients' development teams or provide a complete custom solution that encompasses requirements review and prototyping, through to production supply. Engines can either be manufactured/supplied by RCV, or by the customer under a licensing agreement. 3D CAD data can be made available for installation studies.
To find out more about RCV Engines and their propulsion solutions for unmanned aircraft, please visit their profile page:
https://www.unmannedsystemstechnology.com/company/rcv-engines/