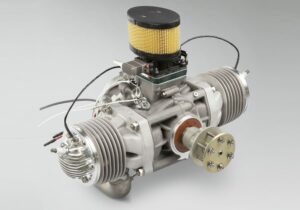 UAV Propulsion Tech has entered into an agreement with Suter Industries AG and Compass Aircraft Europe GmbH (CAE) to market the advanced UAV (unmanned aerial vehicle) engines co-developed by the two companies. Suter and CAE have worked together for several years to develop new UAV propulsion solutions to address the demanding performance and reliability requirements of UAV manufacturers.
Suter Industries has applied their expertise and experience gained from the development of high-performance motorcycle racing engines to develop new products for aerospace and defense applications. Compass Aircraft Europe is lead by Dietrich Kehe, a mechanical engineer with over 24 years' experience in 2-stroke engine design for both manned and unmanned aircraft. Dietrich has developed clean sheet engine designs for advanced UAV applications utilizing advanced electronic fuel injection (including direct injection) technology, including complete propulsion systems with integrated starter-generators, engine mounts and belt/gear reduction drive systems.
The first engine to be developed by the Suter/CAE partnership is the Suter 288 engine, a twin-cylinder, horizontal opposed, air-cooled engine featuring a fuel-saving electronic engine management system and a 1kW starter/generator. Its specifications include a displacement of 288 cm3, and power output of 13.3kW (18HP) at 5700rpm and 17.5kW (24HP) at 6500rpm. All Suter/CAE engines are produced in Switzerland.
Bob Schmidt, founder and president of UAV Propulsion Tech, commented: "I am excited to be working with Dietrich Kehe and his team to bring this world class UAV engine to the global UAV market. I have worked with Dietrich since 2003 on UAV engine programs and he definitely knows what the market needs and can develop technical solutions to meet those needs."
"The addition of the Suter/CAE UAV engine solutions to UAV Propulsion Tech will allow us to continue to provide the best UAV hardware solutions for our customers. I am looking forward to working with Suter/CAE to provide custom and COTS propulsion solutions to the UAV market."
Dietrich Kehe, CEO and founder of CAE GmbH, said, "We wanted to work with a UAV solution provider like UAV Propulsion Tech because of their propulsion experience in the UAV market. UAV Propulsion Tech is a perfect partner to help us increase our visibility in the market and bring these solutions to their expanding UAV customer base."
"Bob's experience as a mechanical engineer and our experience working together in the UAV market on UAV engines in the past will allow UAV Propulsion Tech and Suter/CAE to develop and deliver world-class propulsion solutions."
UAV Propulsion Tech represents a variety of global defense and commercial UAV technology and hardware solutions providers. Their products include COTS and custom propulsion systems, autopilots, gyro-stabilized EO/IR gimbals, inertial navigation systems and many other proven solutions that have been integrated into high-end drone platforms around the world.