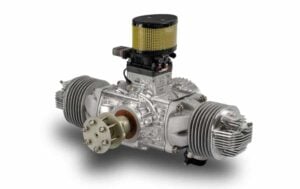 Suter's TOA288 engine has passed an endurance test run according to the Federal Aviation Administration (FAA) regulation section 33.49 for reciprocating engines. FAR 33.49 is a demanding FAA reciprocating aircraft engine endurance test that is a requirement for manned aircraft piston engines to be certified for use and is often also used to test the engines of unmanned aircraft.
The Suter TOA288 is a twin-cylinder, horizontally opposed, air-cooled two-cycle engine, utilizing fuel injection, an advanced electronic engine management system and a 1kW starter/generator. With a displacement of 288 cm3, it provides a power output of 17.5kW (24HP) at 6500rpm. The engine was a design collaboration between CAE GmbH and Suter Industries, combining CAE's 25 years of manned and unmanned two-stroke engine experience with Suter's more than 25 years of two-stroke motorcycle racing design and manufacturing experience.
The 24hp engine, which is currently being utilised in several global UAV (unmanned aerial vehicle) platforms, was tested at Suter's facilities in Turbenthal, Switzerland to evaluate the durability performance. Engine performance testing and component inspection were completed after the 150-hour FAR33.49 durability test and no issues were noticed with loss of performance or accelerated component wear. The engine was re-assembled with the existing hardware and is scheduled to run additional tests.
The results will help Suter define TBO (time before overhaul) and maintenance schedules to ensure that the engine is reliable and achieves a cost-competitive price per operation hour figure over its lifetime.
Suter's TOA288 engine will be showcased at AUVSI's Xponential conference in Atlanta by UAV Propulsion Tech.