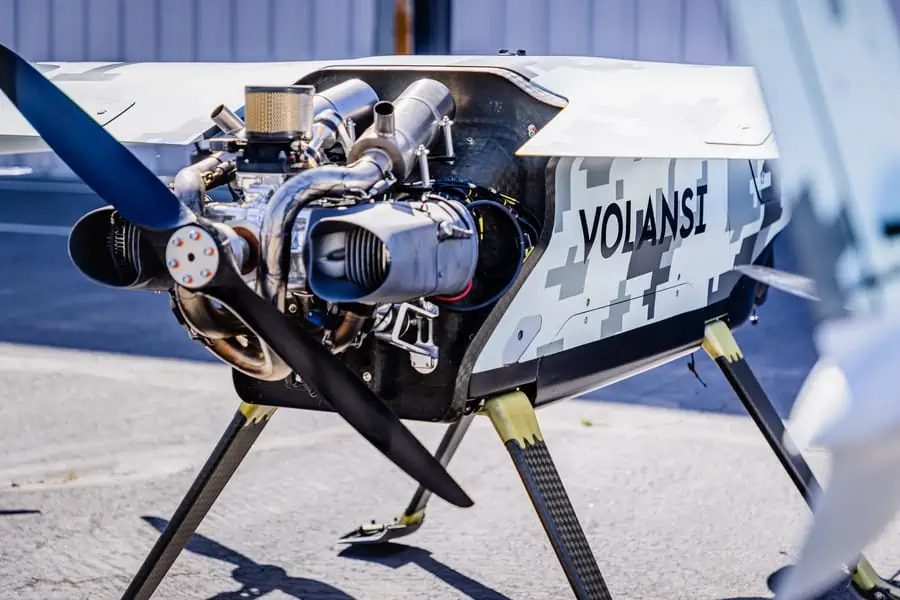 Suter Industries has confirmed that the company's TOA288 24hp UAV (unmanned aerial vehicle) engine has been selected by drone logistics service provider Volansi to provide propulsion for their Voly M20 and Voly 50 Series Vertical Take-off and Landing (VTOL) drones. Volansi VTOL aircraft are designed for long-endurance heavy-lift applications in the defense, commercial, and humanitarian markets, providing surveillance as well as delivery of essential cargo in the field.
Both the Voly M20 and the 50 Series utilize eight electric motors for the VTOL portion of flight, and the Suter TOA288 engine provides forward flight propulsion and power generation. The Voly M20 can carry 20 pounds of cargo and the 50 Series can carry up to 50 pounds of cargo, providing a low footprint runway independent cargo delivery solution for civil and defense applications.
The Suter TOA288 is a twin-cylinder, horizontally opposed, air-cooled two-cycle engine, with a fuel-saving electronic engine management system and a 1kW starter/generator. The engine's displacement is 288cc with a power of 17.5kW (24HP) at 6500rpm. The engine was a design collaboration between CAE GmbH and Suter Industries, combining CAE's 25 years of manned and unmanned 2-stroke engine experience with Suter's more than 25 years of 2-stroke motorcycle racing design and manufacturing experience.
Dietrich Kehe, CEO and founder of CAE GmbH, said: "We are excited to be working with Volansi to optimize our Suter TOA288 engine to meet the aircraft thrust, fuel economy, reliability and durability requirements to expand their product capabilities."
Eskil Suter, CEO of Suter Industries, commented: "We are able to utilize our world class manufacturing & testing facility to provide development and production engines very quickly to Volansi and we look forward to supporting the production demand for this engine."
Steve Morris, VP of Aircraft Engineering for Volansi, noted: "Volansi needed a reliable 24hp UAV engine to meet growing demand for our cargo delivery drones and we turned to Suter/CAE for a solution. We have been flying this new engine for over a year and are very happy with the results allowing us to meet payload, reliability and endurance requirements while also allowing opportunities for further product enhancements over time including heavy fuel capability."
UAV Propulsion Tech is the authorized representative for Suter Industries in the USA.