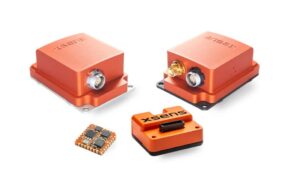 Xsens has launched a new product recommendation tool for the company's inertial sensor modules that suggests the most suitable product for a particular customer application.
Explore the new inertial sensor product recommendation tool on Xsens' website
The easy-to-use selector asks just two questions, with one or multiple selectable options:
What data output is required? (choose from 3D Acceleration/Rate of Turn/Magnetic Field/Velocity, Temperature, Free Acceleration, Roll/Pitch, Yaw, Latitude/Longitude/Altitude)
What communications interfaces are required? (choose from UART, I²C, SPI, RS232/RS485/RS422, USB, CAN)
The product selector will then recommend Xsens modules that fit the stated requirements, giving an overview of performance as well as the module's outputs and interfaces, with a link to find out more.
To explore Xsens' inertial sensor products for a variety of UAV, drone and robotics applications, see the new product recommendation tool on Xsens' website.