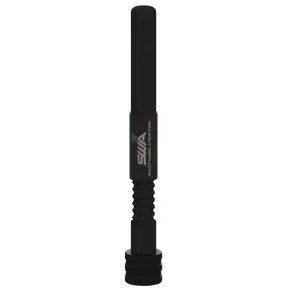 Southwest Antennas have released their first Ultra-Flex antenna offering covering the 2.5 – 2.7 GHz band, featuring an elevation beamwidth of 69 – 73 degrees and peak gain of 2 dBi.
Ideal for use on tactical radio systems and unmanned systems applications, this Ultra-Flex omni antenna is contained within a sealed Ultra-Flex spring base that prevents rain, dust, dirt, mud, or other substances from fouling the spring. The spring also helps prevent damage to mated RF connectors.
With an operational frequency range of 2.5 – 2.7 GHz with 2.0 dBi of peak gain, the Ultra-Flex omni antenna's construction features a rugged black G10 fiberglass radome which holds up to abuse in the field, and the low-glare black finish helps the antenna blend into surroundings during tactical operations.
Fully submersible once securely mated to a radio and with a black chrome Type-N(m) Non-Rotating RF connector, the Ultra-Flex omni antenna is a rugged, small form factor dipole antenna with an innovative environmentally-sealed spring base, giving the antenna flexibility to deflect/bend with impacts and return to its original vertical position. The integrated spring design minimizes stress placed on the antenna and radio RF connector and can help prevent damage to both in the event of an impact.