Transponders for Unmanned Systems and Robotics
Lightweight, Miniature and Microtransponders for Drones, UAVs and RPAS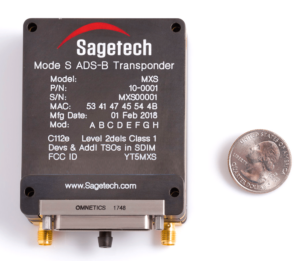 A transponder (portmanteau of transmitter-responder) is a device that receives an RF (radio frequency) interrogation signal and in response, transmits a different signal. Transponders are used in both manned and unmanned aviation to provide information about an aircraft.
Military aircraft will use IFF transponders to provide an IFF (Identification Friend or Foe), transmitting a coded identification signal that identifies them as non-threatening. Civil aviation also uses transponders to identify individual aircraft, allowing air traffic control to track all flights within a particular airspace, resulting in improved safety and efficiency.
Transponder interrogation is usually performed by secondary surveillance radar (SSR), a ground-based radar system used by air traffic control specifically for aircraft identification. Interrogation signals are broadcast on 1030 MHz and reply transmissions on 1090 MHz.