Ultra Motion is a leading designer and manufacturer of high-precision electro-mechanical linear and rotary servo actuators. UST is delighted to welcome Ultra Motion on board as a supplier partner, and we will be highlighting their unique solutions and capabilities across our channels over the next 12 months.
We've just launched Ultra Motion's UST supplier profile, which has been written and built by our team in collaboration with the company. The Gold profile showcases their versatile actuator products, which are designed to meet the dynamic motion requirements of UAVs (unmanned aerial vehicles), UGVs (unmanned ground vehicles), USVs (uncrewed surface vessels) and UUVs (unmanned underwater vehicles).
Read on to find out more: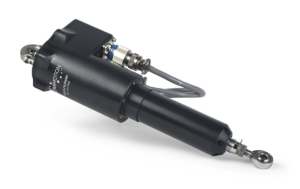 The Servo Cylinder family of linear actuators has been designed for high performance even under extremely challenging conditions. Featuring IP-rated water and dust protection and rugged interconnects, Servo Cylinders incorporate on-board temperature, current, voltage, and humidity sensors, providing constant health monitoring data. Communication protocols include CAN 2.0B, RS-422/RS-485 serial, and RC PWM.
Ultra Motion's cutting-edge Phase Index non-contact position sensing technology has been seamlessly integrated into each Servo Cylinder, providing absolute digital position feedback throughout the entire stroke as well as Field-Oriented Control (FOC) of the motor. No other sensors or limit switches are required for absolute position feedback, which means improved reliability and longevity and reduced noise.
The cylinders are easy to use and integrate, with intuitive setup performed via serial commands or USB. After setup, only power and signal connections are required. All Servo Cylinder series feature a range of customizable options, including screw, BLDC motor size, stroke length, and a choice of three controllers.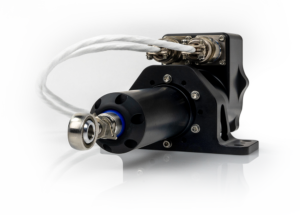 The AM Series is Ultra Motion's most heavily ruggedized Servo Cylinder, featuring enhanced resistance against shock and vibration, a conformal coated controller PCB, MIL-spec connectors, and a hardcoat anodized aluminum enclosure for EMI/EMC protection.
The rugged linear actuator is rated to IP67 while static and to IP65 under dynamic conditions, and is ideal for hard-wearing unmanned systems applications such as fixed-wing UAV flight control surfaces and UGV brakes and transmission.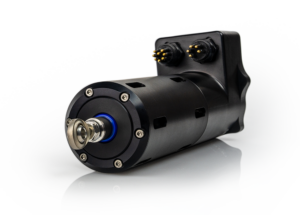 The AU Series is a subsea linear actuator designed for harsh marine and maritime environments both above and below the waterline. Featuring Wet-Mate electrical connectors and a fully sealed pressure-balanced and oil-filled enclosure, it can reliably operate at depths of down to 6000 metres.
The actuator is ideal for a wide range of ROV, AUV and USV systems, and low-cost shallow-water versions are also available.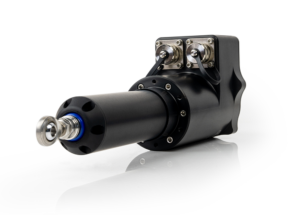 The A2 Series is an industrial-grade linear actuator designed for reliable performance in dirty, debris-filled or outdoor environments. It is IP65-rated and features metal shell connectors.
The A1 Series is Ultra Motion's standard low-cost actuator model, and is ideal for robotic vehicles operating in cleaner indoor environments. It is IP50-rated and features Molex Micro-fit connectors.
To find out more about Ultra Motion and their servo actuators for drones and robotics, please visit their profile page: https://www.unmannedsystemstechnology.com/company/ultra-motion/