Alpha Unmanned Systems is a leading developer and manufacturer of small tactical helicopter UAVs (unmanned aerial vehicles). UST is delighted to welcome Alpha Unmanned Systems on board as a supplier partner, and we will be highlighting their unique solutions and capabilities across our channels over the next 12 months.
We've just launched Alpha's UST supplier profile, which has been written and built by our team in collaboration with the company. The Silver profile showcases their tactical unmanned helicopters, which have been selected by leading clients around the world as the platform of choice for maritime security, border control, infrastructure inspections and other critical missions.
Read on to find out more: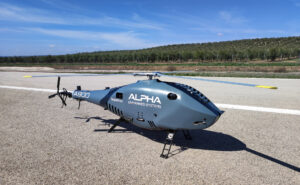 The Alpha 900 is a fuel-powered rotary-wing UAV designed specifically to excel under challenging marine and maritime conditions. With an MTOW of less than 25 kg, the STANAG 4738-compliant platform can easily take off from and land on the deck of a ship, and also features robust weather-proofing.
The versatile naval drone can carry up to 4kg, and features a main and secondary payload bay as well as external hard points and an internal electronics bay. The platform is an ideal choice for ISR and security missions as well as coast guard and naval operations.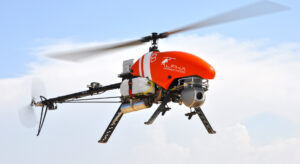 The Alpha 800 is a versatile multi-mission rotary-wing drone with extremely low logistical footprint and maintenance requirements. The highly reliable system can be transported in a pick-up truck or van, and can be set up and airborne in minutes.
The single-rotor drone can carry up to 3kg and can be equipped for a wide range of civilian and military missions, including mapping, inspection, surveillance and reconnaissance, and search and rescue.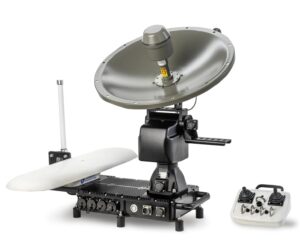 Alpha's vessel-based control system (VCS) uses dual-antenna GNSS and a high-gain gyrostabilized tracking antenna to provide reliable long-range encrypted communications between UAVs and their motherships. Multiple datalink options are available providing ranges of up to 50 km.
The system includes two rugged laptops for UAV and payload control, as well as an IP67-rated rugged handheld joystick that enables communication via Ethernet at distances of up to 40 metres from the control room.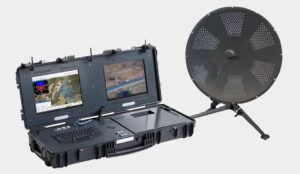 The G-Case Duo is a portable UAS GCS designed for use by two operators. The rugged and easy-to-deploy system is housed within a waterproof Pelican case, and features two sunlight-readable 15" HD screens for vehicle and payload control.
The GCS can be equipped with different antenna systems to provide communication ranges of up to 50 kilometers. Up to four UAVs, UGVs or USVs can be controlled simultaneously, and telemetry and video data is transmitted via an encrypted MIMO link.
Alpha Unmanned Systems also provides a comprehensive range of UAV services, including payload integration, maintenance, and training programs.
To find out more about Alpha Unmanned Systems and their tactical helicopter UAVs, please visit their profile page: https://www.unmannedsystemstechnology.com/company/alpha-unmanned-systems/