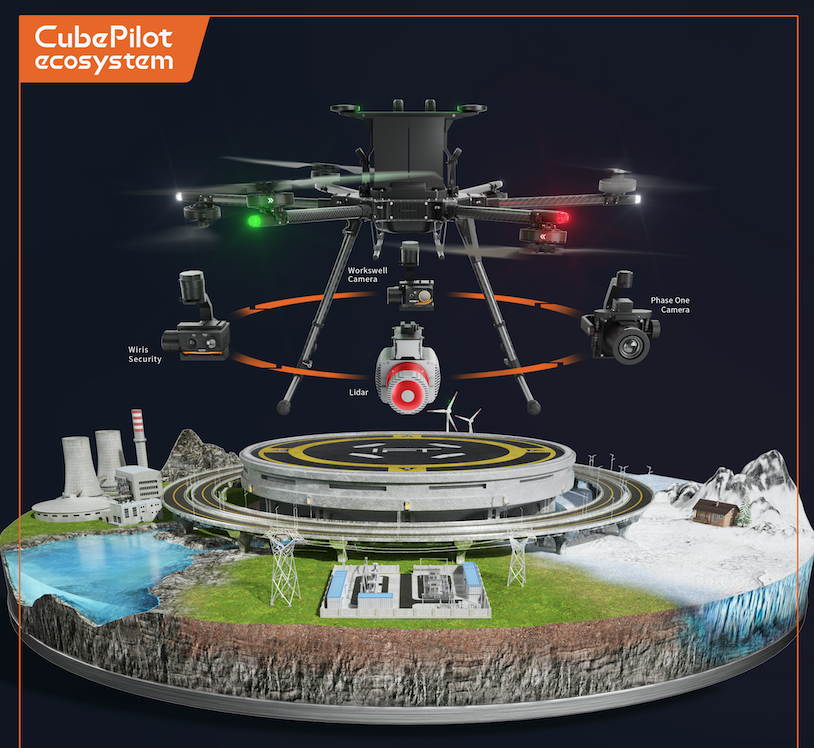 The IF1200A by Inspired Flight, developed in partnership with the Cubepilot ecosystem, delivers a high level of reliability and user experience to the American-made UAV market. Designed for use in industry's most critical applications, the redundancy and safety features onboard allow users to be confident that their equipment will get the job done, whenever needed. Tightly integrated with a suite of payload options, operators rely on Inspired Flight to provide a complete solution for their mission-set.
Utilizing CubePilot's ecosystem, the IF1200A offers a flexible, open-system architecture for enterprises to integrate their capabilities into an unmanned aircraft. Whether Lidar for Geospatial firms, radiation detectors for university nuclear engineering labs, or aerial ignition payloads for wildfire containment, the IF1200A's universal payload interface makes it possible, all while providing industry-leading flight time.
The IF1200A is the iteration to the IF1200 system launched in 2020. Building on the IF1200's successes with ruggedness and ability to integrate with a wide range of capabilities, the IF1200A brings industry-leading flight time and payload capacity under 55lbs. The 85% increase in flight time, and hot swappable batteries, allows users to perform longer and more complex missions, without ever needing to unpower the onboard sensor.
A focus on user experience and ergonomics enables operators to focus on achieving their mission and driving results for their business and programmatic goals. The unique under/over design of the propellers allows for a compact, yet extremely powerful, aircraft that can easily be thrown in the back of a car or checked on a commercial airplane.
Ready-to-fly integrations with high-powered Optical and EO/IR imaging solutions allow for accurate and reliable inspections. The IF1200A enables energy utility & civil engineering firms to inspect industrial assets in a safer and more repeatable manner. Designed to be a robust and reliable tool, the IF1200A not only provides a streamlined user experience, but also inspires confidence in its operators.