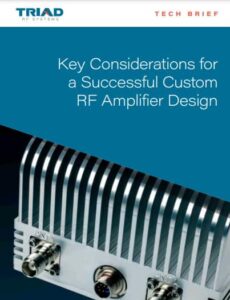 Triad RF Systems has released a tech brief that outlines a number of factors that are essential to consider when planning the design of a custom RF (radio frequency) amplifier. RF amplifiers are commonly used in UAV (unmanned aerial vehicle) and unmanned systems communications to amplify low-power RF signals for transmission over long ranges.
RF amplifier customization may be necessary when COTS (commercial off-the-shelf) amplifiers do not meet design requirements for gain, power, linearity or other specific performance criteria.
Download the full tech brief from Triad's website here
The tech brief covers:
Common criteria for RF amplifiers
Applications that may benefit from custom amplifier design
Information that should be supplied to your custom amplifier manufacturer
Details of the three stages of a typical custom RF amplifier design process – research/planning, design/simulation/manufacture, and testing/tuning
Challenges in the design of RF amplifiers
How to select a suitable partner partner for custom RF amplifier creation
To find out more about the design process and common challenges in custom RF amplifier manufacture, download the full tech brief from Triad's website.