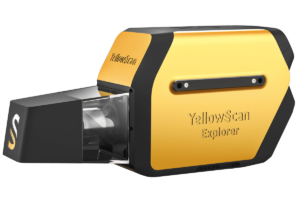 YellowScan has launched the latest addition to its lineup of UAV (unmanned aerial vehicle) LiDAR solutions. The YellowScan Explorer can be installed on a wide range of unmanned aircraft and can be used for a variety of laser scanning applications including surveying, forestry, environmental research, archaeology, industrial inspection, civil engineering, and mining.
Weighing just 2.3 kg without a battery, the YellowScan Explorer's high-power laser scanner can catch points up to 600m away. Combined with YellowScan's full suite of software solutions for easy extraction and processing of point cloud data, it offers a highly accurate set of tools to meet the needs of a range of missions.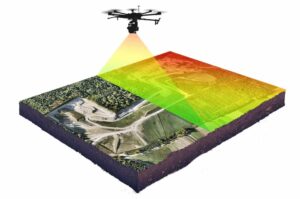 The YellowScan Explorer incorporates an Applanix APX-20UAV GNSS-Inertial solution, with precision of 2.6 cm and accuracy of 2.2 cm. It can be operated at flight speeds of 5 to 35 m/s and at AGL altitudes of up to 300m. Designed to be mounted on fixed-wing or multirotor UAVs, Explorer can enable a large variety of mission profiles. The package includes 1-year unlimited technical support and training.
Nassim Doukkali, R & D Project Manager at YellowScan, commented: "We have been working on Explorer for the last 3 years, building on everything we have learned and achieved from a hardware, software and component integration to date. One of the elements we are most proud of is the laser scanner, which has been designed according our specific specifications. With a maximum range of 600m, the Explorer has exceeded YellowScan's initial expectations."
Tristan Allouis, CTO of YellowScan, said: "In 2017 YellowScan took part in a research project called FRELON ("French long range lidar"), funded by the European Regional Development Fund. The goal was to develop a new standard for long range LiDAR by bringing together innovative specialists like YellowScan to collaborate directly with Airbus Defense and Space, UAV manufacturer Delair, M3 Systems and utility end-users EDF, RTE, Enedis and SNCF to develop the next generation solution to meet their requirements. We are proud to finally release Explorer. This is our answer to the market's need for a single long range, yet compact LiDAR unit that can be mounted on light manned aircraft and various UAV platforms."