Simpulse, a leading developer of high-performance, long-range radio data links for UAVs (unmanned aerial vehicles) and UGVs (unmanned ground vehicles), has partnered with Unmanned Systems Technology ("UST") to demonstrate their expertise in this field. The 'Silver' profile highlights how their solutions, based on advanced proprietary Software Defined Radio (SDR) technology, can be used for high-reliability unmanned systems video and data communications in challenging environments.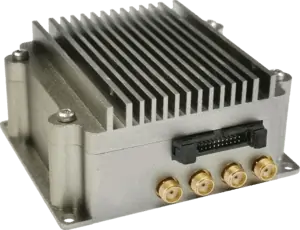 The SL200 SDR module is the basis for all Simpulse data link solutions. Two modules make up a bidirectional long-range radio link for drones and UGVs that provides uplink and downlink of data and telemetry, and downlink of live HD video.
With unmatched sensitivity, the SL200 provides robust long-range performance with very low transmission power, making it ideal for SWaP (size, weight and power)-limited applications. In addition to available frequency bands, the system can be adapted to work with any bands from 70 Mhz to 6 Ghz upon request. The SL200 modem also shows enhanced security thanks to its proprietary waveforms and AES 128/256 encryption.
Featuring state-of-the-art link optimizing technology, the SL200 delivers excellent quality of service (QoS) for Non-Line of Sight (NLOS), urban and indoor transmissions and provides a stable throughput of live HD video and data, whose upstream / downstream ratio can be configured. The SL200 is available in a compact and lightweight aluminium enclosure, or as an OEM board. Software and hardware modifications can be made upon request.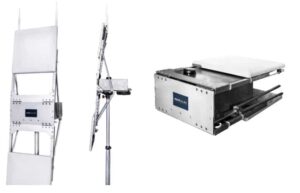 The GRS-T200 is a ground tracking solution for UAV ground control stations, based on the SL200 radio data link. Embedding two omnidirectional antennas and two directive antennas as well as a GPS receiver, it provides fully automated high-precision 360-degree LOS tracking and extends transmission range to up to 80 km for HD video.
The system has been designed with a compact, foldable aluminium structure that can be deployed in five minutes and can be mounted on a mast or portable tripod.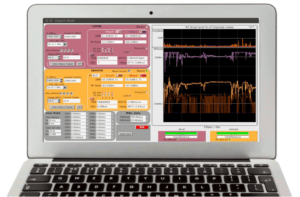 The Radio Analysis Tools software suite, included with all Simpulse products, provides everything required to configure and analyse UAV and UGV data links.
The powerful software provides real-time data such as signal-to-noise ratio (SNR), RF receiver level, packet error rate and data rate. It includes a range of useful features to aid in setting up UAV and robotics communications, including antennas optimization and drone data logging.
To find out more about Simpulse and their long-range radio data links for unmanned systems, please visit their profile page:
https://www.unmannedsystemstechnology.com/company/simpulse/