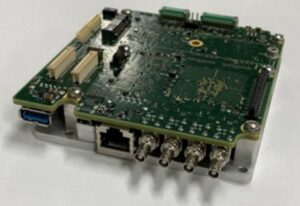 Vision4ce has released the CHARM 100NX, a state-of-the-art standalone video processing board based on the NVIDIA Jetson Xavier NX, which is the world's smallest AI supercomputer and provides more than 3 times the AI processing performance NVIDIA's earlier Jetson TX2 processor.
The CHARM-100NX is ideal for embedded video and image processing applications on unmanned systems such as UAVs (unmanned aerial vehicles) and UGVs (unmanned ground vehicles). It is designed to host Vision4ce's GRIP View video management and image processing software for electro-optical (EO) systems, and can also run the company's DART video tracking software.
The new board is based on a NVIDIA Xavier embedded processor which incorporates a multicore ARM processor and powerful GPU. It offers video interfaces for 6G, 3G, HD and SD SDI digital video, along with a mezzanine board for video interfaces such as YPbPr, CameraLink, CoaXPress and LVDS.
Vision4ce has also developed a range of GPU-based embedded platforms for efficient AI computing applications, as well as software solutions that provide an architecture with rules-based learning that allows trained AI processes to be easily integrated into existing frameworks.