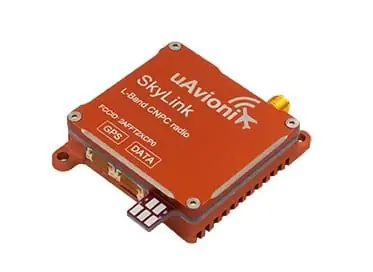 uAvionix, a designer and manufacturer of communications, navigation, and surveillance (CNS) equipment for unmanned aerial systems (UAS), has announced that it is testing its prototype of a Command and Non-Payload Control (CNPC) radio for UAS and Urban Air Mobility (UAM) vehicles.
"skyLink" is an L-Band frequency modulated CNPC radio ultimately intended for point-to-point or networked Beyond Visual Line of Sight (BVLOS) UAS operations. uAvionix has focused on minimizing size, weight, and power consumption (SWaP) while maximizing range and spectrum efficiency. The current 50g 10-Watt prototype is testing successfully at ranges exceeding 40 miles at low altitude. uAvionix is testing under an experimental transmit license and approval from the Federal Communications Commission (FCC) and Federal Aviation Administration (FAA) respectively.
Prior to founding uAvionix, CEO Paul Beard invented and brought to market the "Spektrum" digital spread spectrum radio control (RC) technology which revolutionized the RC industry by moving the control link from 27 and 72MHz bands to a high bandwidth 2.4GHz ISM band.
"Building high performance datalinks for airborne applications is insanely challenging," said Beard. "Combining our ability to produce TSO certified equipment with the experience of developing and deploying millions of commercial products globally with Spektrum, we expect to bring affordable, scalable, and safe solutions to enable the UAS and UAM markets."