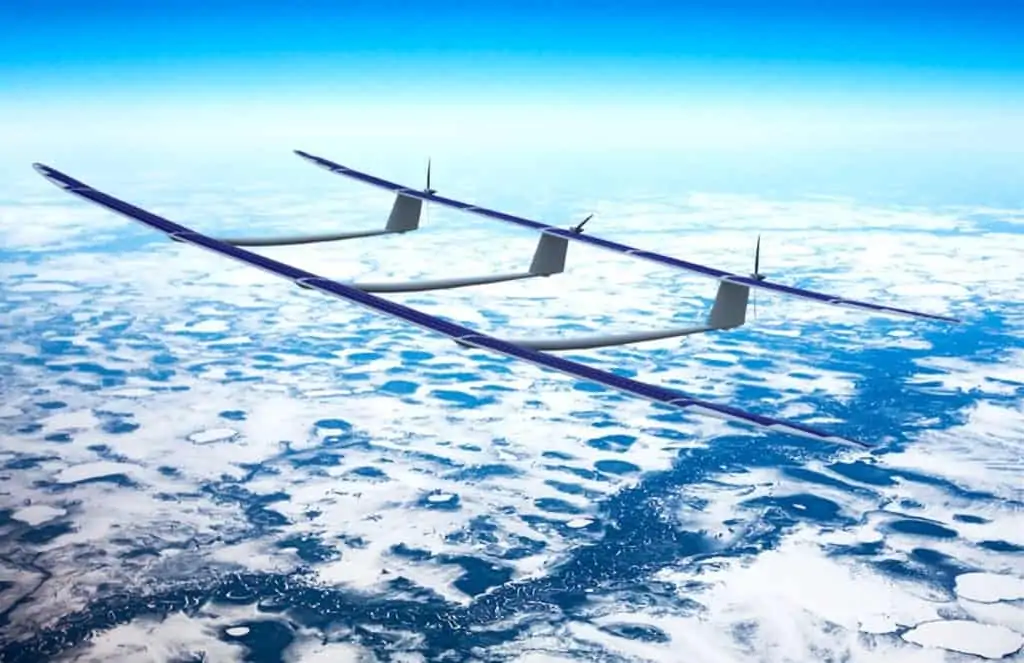 UAVOS has announced that it has developed a High Altitude Pseudo Satellite (HAPS) control system for for high-altitude flexible wing unmanned aerial vehicles (UAVs). Utilising these new flight control principles, UAVOS' HAPS technology will be able to shift the geographic area of solar aircraft flights to more northern latitudes.
HAPS will provide unique opportunities for using this solution in both civilian and defense areas, and for security tasks. UAVs powered by solar energy can undertake long-term continuous monitoring of areas of interest on the Earth's surface to get real-time information. To meet the demands of telecommunication companies, HAPS can create a network of autonomous repeaters of radio and high speed data signals over practically any territory, including the Northern regions during the summer, where the use of regular aircraft is highly problematic due to economic reasons and weather conditions.
"By its very nature, this solution replaces low-orbital space grouping and can provide services not available for conventional satellite systems," said Vadim Tarasov, investor and Board member of UAVOS Inc. "Such aircraft can carry out long missions for years barraging in the air currents over the expanses of the World Ocean, over territories with no airfield infrastructure, sparsely populated areas, sea borders, taking and relaying information for both civilian and military facilities."
A high-altitude unmanned aerial vehicle powered by solar batteries is called an atmospheric satellite because it can perform a lot of functions commonly attributed to spacecraft located in low Earth orbits.
UAVOS' solar powered test aircraft has so far achieved a total flight time of more than 1000 hours. Test flights took place at an altitude of up to 66 feet (20,000 meters). Test flights confirmed that this type of control allows aircraft with a large wing elongation to fly in difficult weather conditions. The aircraft successfully copes with turbulence, actively changing the bend of the wing. The flying model has a 46 feet (14 meter) wingspan and weighs 33 lb (15 kg). The airframe of the unmanned vehicle is made of materials based on carbon fibers, which have very high strength, low weight, and are designed for long-term continuous operation.
"I think, to date, none of the world's HAPS projects can perform long-term missions. However, that does not stop large corporations in the development of this direction of aviation. This is due to the fact that the development of the high-capacity power supply industry is now going through an investment boom and, probably, it will soon bear fruit not only for telephones and electric cars, but also for aircrafts, including HAPS. It is quite obvious that the range of non-stop HAPS flights and their energy output is constantly increasing," said Vadim Tarasov.
UAVOS' HAPS ApusDuo flight prototype will be presented at the AUVSI XPONENTIAL 2018 exhibition in Denver.