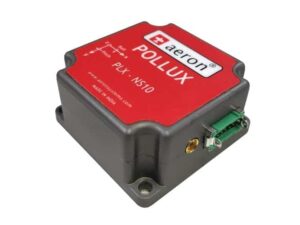 Aeron Systems, a developer and manufacturer of inertial navigation systems (INS), has announced the launch of Pollux, a compact INS that combines Aeron's proprietary Kalman filter based parameter estimation engine with high speed processing power to deliver position, ground speed and orientation information at a high update rate.
Weighing 40 grams, Pollux is ideal for applications like unmanned aerial vehicles (UAVs), unmanned ground vehicles (UGVs), and other robotic platforms. The new INS was unveiled at Defexpo India 2018.
Pollux is a multi constellation GNSS aided inertial navigation solution which can give navigation data even in absence of GPS.
Ashvani Shukla, CEO of Aeron Systems, commented: "Right from its inception, Aeron has shown a strong commitment and interest in the development of inertial navigation systems. Pollux is the result of consistent efforts of team Aeron and the technology excellence we have achieved."
Aeron Systems' INS are available in the U.S. through UAV Propulsion Tech.