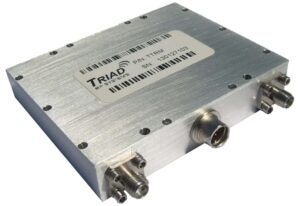 Triad RF Systems, a designer and manufacturer of RF and Microwave amplifiers and amplifier systems, has announced that it has fulfilled an order placed by an Israeli unmanned aerial vehicle (UAV) manufacturer which specializes in L-band and S-band HD video, telemetry, and command and control data links.
The order included Triad's TTRM1115-D01, a 2.4–2.5 GHz, 12 watt bi-directional solid-state power amplifier (SSPA) and the TTRM1116-D01, a 1.2–1.4 GHz, 50 watt bi-directional SSPA.
Triad's bi-directional amplifiers are widely used in UAVs and unmanned ground vehicles (UGVs) to extend the useful range of high speed data links. Using this order, the customer was able to demonstrate a UAV data link distance of over 120 km.