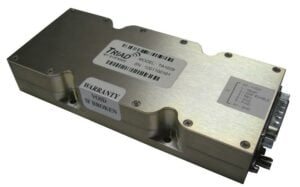 Triad RF Systems, a designer and manufacturer of RF and Microwave amplifiers and amplifier systems, has announced the release of its latest power amplifier module, the TA1029.
The TA1029 is a 6.4 ‐ 7.1 GHz amplifier designed for broadcast applications requiring linear power for COFDM digital video transmission. It utilizes GaN devices for high efficiency while maintaining ‐30dB ACPR with a COFDM video signal. The unit can be operated from a 9‐36VDC supply voltage range, and features over, under and reverse voltage protection.
The TA1029 is ideal for both military and commercial applications, including manned and unmanned aircraft.