Webinar Details
Hosted by
November 17, 2020 , 08:00 (UTC)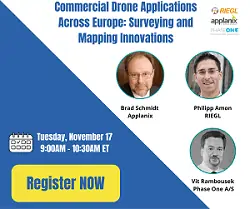 Establishing and maintaining operations in the midst of COVID-19 has forced a new way of thinking about drone technology for many organizations across Europe. This "new normal" when it comes to how drone technology can be adopted is redefining the present in the surveying and mapping space but it's also positively shaping the future of surveying applications in unexpected ways.
Join the Commercial UAV News webinar, presented by Jeremiah Karpowicz, to get an insight into this big topic!

Philipp Amon, Manager RIEGL ULS Business Division, will participate in this exiting discussion and inform on our latest innovations and developments for UAV-based applications in surveying.
Register now for FREE to learn about the most impactful and innovative drone solutions in the surveying & mapping space!
We look forward to meeting you virtually!