In this article, Deep Trekker discusses the benefits of using its A-200 portable, battery-operated submersible crawler system for remote visual inspections of wind turbine blades. 
---
The Green Economy is a rapidly growing and vitally important part of our energy mix. Part of this growth is the increased investment in wind power generation. As many existing wind farms enter their second decade of service, and new builds are being exponentially pursued, the need for inspections and maintenance is increasing quickly. Offshore wind farms are particularly subject to degradation due to the salt-laden air, higher wind velocities, and prolonged UV exposure.
HOW ARE TURBINE/BLADE INSPECTIONS PERFORMED?
Commercial Climbers & Confined Space Workers
The traditional method of performing visual inspections is to utilize industrial climbers to scale the outside of the tower. During the climb, they may record video footage or photograph anomalies, as well as take thickness measurements. Internal inspections can be performed by climbing the inside of the tower to the hub, and performing a confined inspection of the mechanical components and blades. The main downfall to this method is the inherent danger that comes with working at heights or within confined spaces. With average heights of 80m, blade diameters of 1-3m, and minimal exit points, entering modern windmills can be dangerous. Recent data reflects that wind is responsible for 1,000 worker deaths per trillion kWhrs produced, placing just behind coal for the most dangerous methods of energy production. As more turbines are built, more accidents occur. Numbers of recorded accidents reflect this, with an average of 70 accidents per year from 2002-2006 inclusive; 138 accidents per year from 2007-2011 inclusive; 171 accidents per year from 2012-2016 inclusive, and 222 accidents per year from 2017-2021 inclusive.
The dangers that can occur while working at confined heights are reflected in the tragic loss of 19 and 21 year old mechanics burnt on top of a wind turbine in Deltawind's Piet de Wit wind farm in the Netherlands. The two men were atop an 80m wind turbine performing routine maintenance while a circuitry issue sparked an internal fire. The height at which the fire occurred made extinguishing very difficult, and the two men were two far situated inside to escape.
Additionally, the cost and time associated with involving multiple specialized employees in a manual inspection process can quickly add up. An average sized turbine takes roughly 3-6 hours to complete, excluding any preparation and safety procedures. With most organizations recommending two inspections per year, this can quickly add up to weeks or months of expensive and dangerous work depending on the size of the wind farm.
Aerial Drones
Deploying aerial drones in lieu of workers empowers teams to complete a thorough exterior inspection remotely. This eliminates any concerns of safety, since the pilot can remain on ground level. Additionally, removing any need for prep or safety rope precautions, the inspection can be done by a single operator in about 12% of the time it takes to complete using traditional methods. Beyond improving work efficiencies and employee safety, this also saves nearly $500 of lost energy production due to downtime per inspection.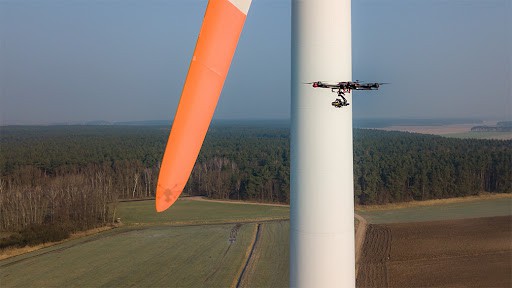 One downfall of aerial drones for inspection is the lacking performance in confined or inclement conditions. While they are an extremely useful tool for exterior inspections, turbine hubs and blades may prove challenging for navigation and connectivity. Additionally, blades commonly utilize a variety of lubricating fluids, which in an exposed motor system can result in failures. With nothing tethering the vehicle, this can quickly turn into a dangerous retrieval mission.
Pipe Crawlers
Pipe crawlers may not be as known to the general public as aerial drones due to their primarily industrial application, however, they are an invaluable tool and growing name for turbine inspections. These vehicles are tethered and land-based, rendering them obsolete for exterior inspections. However, they fill the much needed gap of a safe and reliable solution for entering and inspecting the blades. Turbine blades are generally thin, lubricated, confined "tunnels" with no exits, making them dangerous for human workers to enter. Traditionally, humans would be required to crawl these blades during inspections.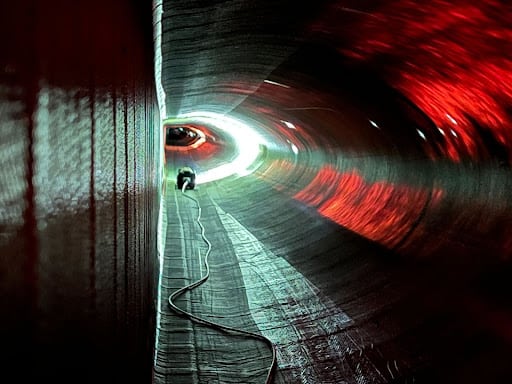 Utilizing a battery powered pipe crawler, workers can either hand-carry or crane/winch hoist the vehicle to the hub. Once atop, a single operator can drive the crawler through the blade, recording footage along the way. A massive benefit in this compared to human entry is the limits to which the crawler can survey. Blades will slowly lose diameter as they reach the end, with most being unreachable for the last 30%. Using a pipe crawler, workers can get a clear visual for the entire length.
THE PIPE TREKKER DIFFERENCE
Utilizing over a decade of design principles from building underwater robotics under the Deep Trekker brand, Pipe Trekker manufactures the industry's first truly portable, battery-operated submersible crawler system. Constructed of machined aluminum and steel alloy, Pipe Trekker's A-200 crawler gets you more time in the field, and less time in the shop. The handheld controller utilizes Pipe Trekker's in-house software for a truly seamless experience, reducing the learning curve for new operators. The A-200 also benefits from a modular design, allowing operators to adjust the vehicle to fit different terrains or diameters.
The A-200 at a Glance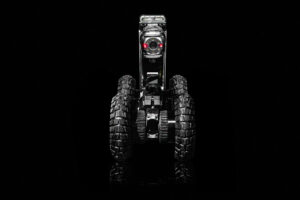 Included
360° Pan/Tilt/Zoom Full HD Camera
Weatherproof Controller
Motorized Arm
3 Rubber Wheel Kits
512 Hz Sonde
Floodlights & Laser Scaler
200m Tether
2 Pelican Cases
Optional
Automatic Reel
Up to 310m Tether
Rear Camera
Pneumatic Tires
Tablet Style Controller
CASE STUDY: KRUGER ENERGY
Founded in 2004, Kruger Energy specializes in the development and management of renewable energy power plants. They manage and operate 42 production sites, ranging from hydroelectric, wind, energy storage and solar power facilities to biomass cogeneration plants, with a total installed capacity of 542 MW. After investigating alternative inspection methods, we were excited to connect with our friends at Kruger to test out our latest A-200 crawler in a turbine blade inspection.
The operation began by hoisting the A-200 up to the nacelle, although the crawler's portable design also allows it to be hand-carried if the turbine doesn't have a crane. After the simple and intuitive setup process, one of Kruger's technicians inserted the A-200 into the blade and began the inspection in minutes. During a first attempt, the operator was able to collect detailed visual data of the entire blade set within two hours. This data is critical to help inform rehabilitation decisions for ongoing preventative maintenance.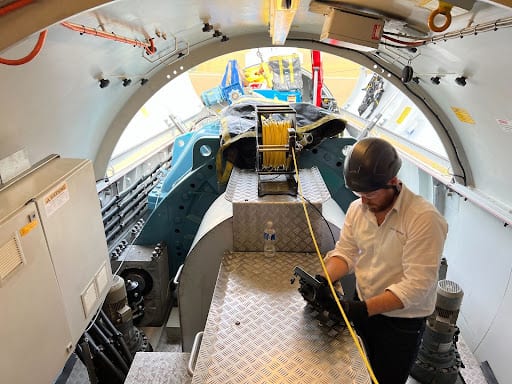 Once securely connected to the vehicle, the tether provides instant, reliable communication, while also serving as an effective retrieval tool. Wireless solutions are subject to connectivity issues in confined spaces and can quickly become irretrievable during an inspection. Inspection equipment with exposed motors can struggle or fail in wet and dusty environments while an A-200 is fully sealed and submersible up to 50m so things like fine particles and films pose no threat to regular operation. And with tether lengths up to 310m or 1,000ft, the A-200 can also be operated from a ground station when the need arises.
While advanced grit or tracked wheel configurations are available for the A-200, the traction of the standard rubber wheelset performed well at grades up to 5 degrees, in spite of the presence of a slippery film on the driving surface. Although the blade itself was at the 9 o'clock position, this demonstrates the crawler's ability to perform inspections throughout the curvature of a blade. In the A-200s smallest configuration we were able to reach within a few meters of the tip of the blade, and the 10x optical zoom function can assist in monitoring fine details beyond its positional capabilities.