REVOLUTION Remotely Operated Vehicle
The REVOLUTION provides fast and flexible underwater capabilities for complex deep ocean missions. It consists of six thrusters to provide unmatched control to survive harsh conditions.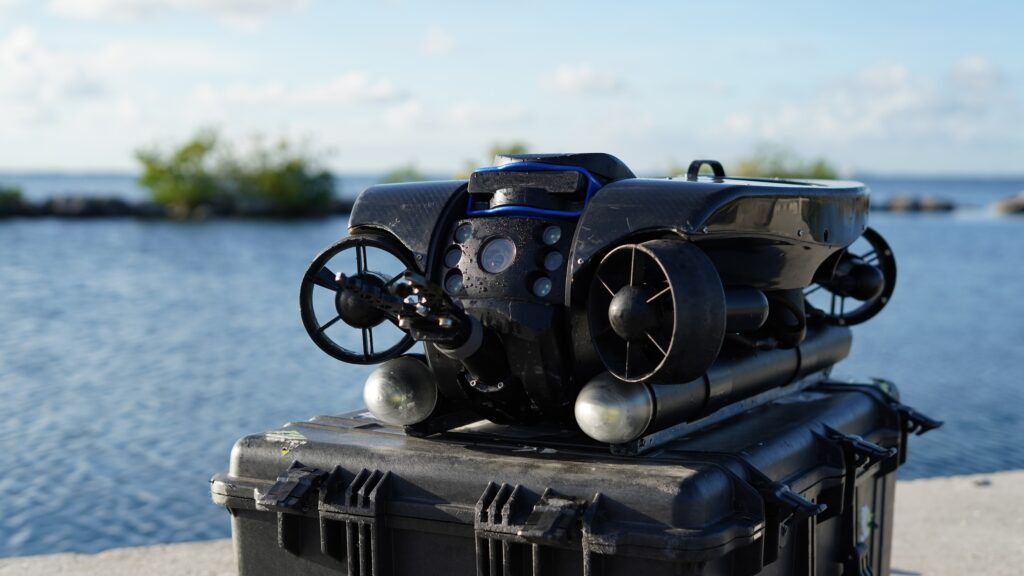 The ROV is powered by lithium-ion batteries that are easily interchangeable with the spare batteries provided to ensure uninterrupted operation. The carbon fiber shell makes this vehicle rugged and durable.
Revolving Head
- The defining feature of the REVOLUTION is the 260-degree revolving camera head that provides high definition view from the controller, along with LED floodlights and a laser scaler.
- The imaging sonar, camera, lights, and grabber is optimal for search missions, hull inspections, and target location.
Above the camera head is the option for imaging sonar to get visuals in murky water. Below the camera is a two function grabber with easily interchangeable claws that can be utilized for sampling, measuring, or retrieving.
Six Thruster Control
- The stable thrusters are mounted for vertical movements, depth holding, and lateral movements. This feature is perfect for stability in heavy currents and making fine adjustments during inspections.
- The thrusters utilize magnetic coupling, preventing them from wearing down over time, and require no ongoing maintenance or regular replacement.
BRIDGE Integration
- The ROV is controlled by BRIDGE software, enabling the viewing and recording of data from a handheld controller. Adding the USBL system allows for recording the position of the ROV, along with video and other sensor data side by side.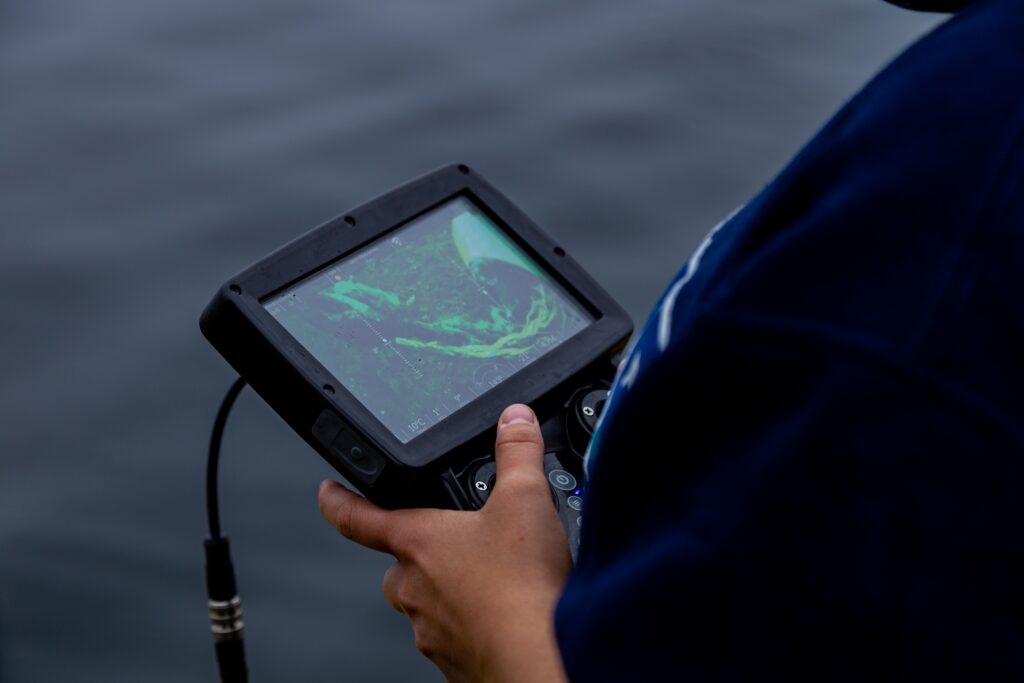 Comparing REVOLUTION packages
REVOLUTION BASE
- Includes the BRIDGE integrated controller, SD card, rotating camera head, grabber, LED floodlights, and a 10cm laser scaler. It also includes a spare set of batteries for extended missions, or a direct power option.
- A 300m tether reel is included which can be upgraded to 500m, in addition to two pelican carrying cases for advanced portability.
REVOLUTION NAV
- The REVOLUTION adds advanced piloting features with USBL and DVL sensors to plan missions and deploy pre-programmed routes with the mission planner. These sensors enable auto-depth, and produce location data.
- The NAV also includes a service kit and an extended two-year warranty.
- The advanced stabilization allows users to pilot the vehicle precisely underwater, even in high current.
Dimensions (LxWxH)
717x440x235 mm (28.2x17.3x9.3")
Weight (in air)
26 kg (57.3 lb)
Depth Rating
305 m (1000 ft)
Operating Temperatures
-10°C to 50°C (14°F – 122°F)
Camera Specs
4K30, 1080p30
30FPS 0.001 Lux
Lights
High-efficiency LED, fully dimmable
1000 lumens tracking with camera
Optional 1000-4400 lumens add-ons