REVOLUTION Remotely Operated Vehicle
The REVOLUTION is a fast, flexible expeditionary remotely operated vehicle that can be deployed within minutes. The unique design features a revolving head that allows operators to rotate the ROV camera, manipulators, and sonar, all while automatically station holding in moving water. The ROV and all components are powered completely by internal batteries, which can be swapped out quickly and easily in the field.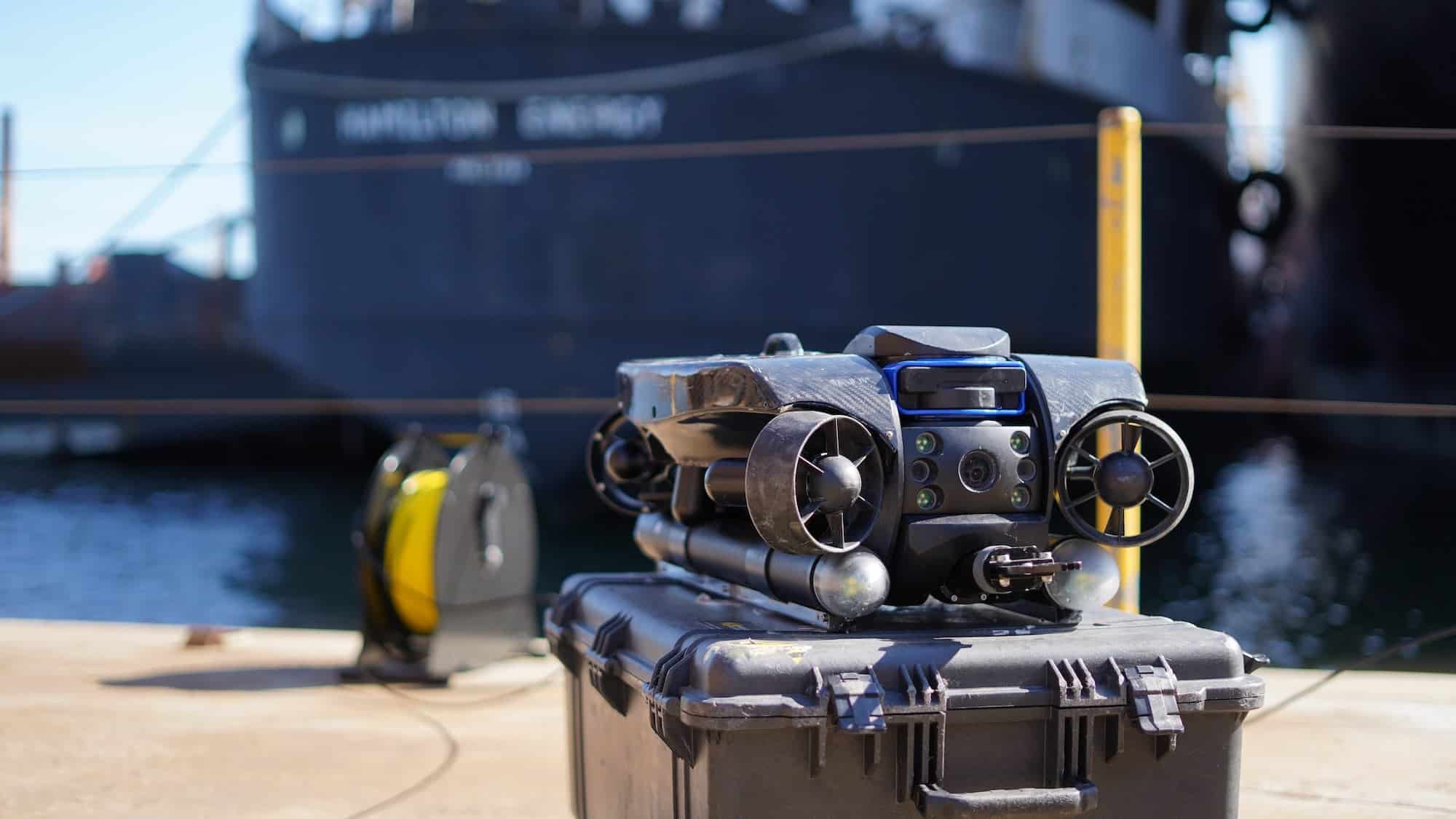 Powered by our proprietary BRIDGE technology, REVOLUTION is capable of optimal maneuverability even in challenging underwater environments. Six robust vectored thrusters provide lateral movement as well as precise forward and backward turning, and the ROV camera, sonar, and manipulator can all rotate through 260 degrees.
A weatherproof, easy-to-use handheld controller with 7-inch screen directly receives and records live 4K UHD video from the internal low-latency ROV camera. With simultaneous viewing of sonar data, GPS and video, the controller provides a clear, convenient view of underwater inspection missions with no need for additional control consoles.
The complete standard REVOLUTION package includes the ROV, controller, a two-function grabber arm, a laser scaler and a 300m tether. A wide range of additional payloads and accessories are also available for integration into the REVOLUTION, including multibeam imaging sonars, USBLs, chemical sensors, auxiliary cameras and manipulator arms.
REVOLUTION Specifications:
Dimensions (L x W x H)
717 mm (28.2") x 440 mm (17.3") x 235 mm (9.3")
Weight (in air)
26 kg (57 lb)
Depth Rating
305m (1000 ft)
Operating Temperature
-10°C to 50°C (14°F – 122°F)
Camera Specs
UHD 4K – 3840 X 2160
720p – 1280 x 720
30 fps, 0.001 Lux
Lights
High-efficiency, fully-dimmable LED
8,400 – 11,800 Lumens