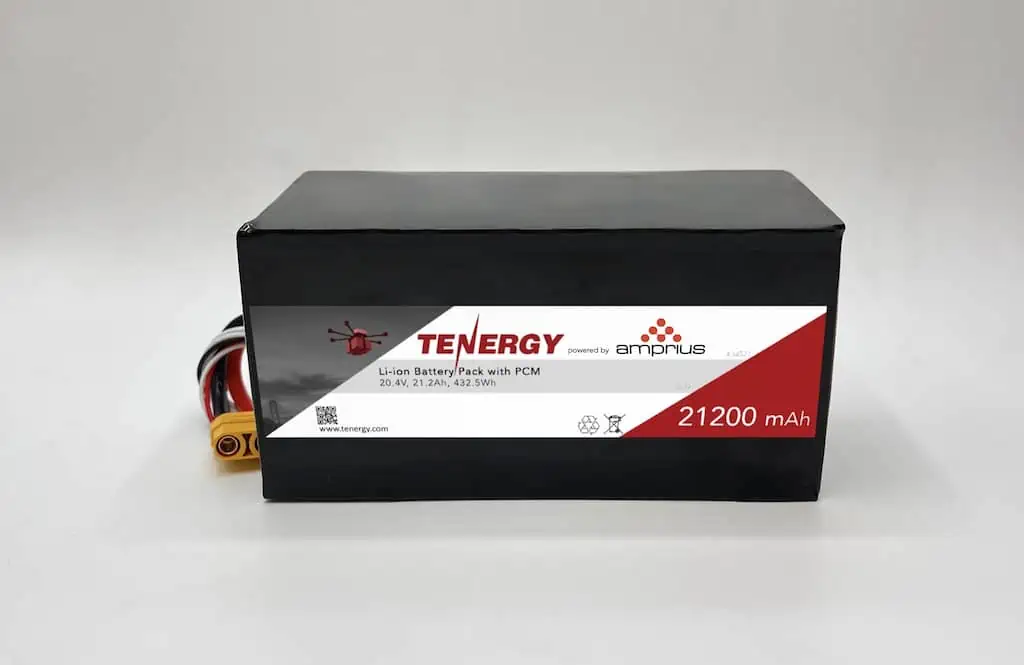 Amprius Technologies, Inc. has announced its high-energy density cells have been integrated into a state-of-the-art battery pack produced by Tenergy.
Tenergy provides total power solutions for the rechargeable battery market, while Amprius is a leader in next-generation lithium-ion batteries with its Silicon Anode Platform.
The Tenergy x Amprius battery was unveiled at the Commercial UAV Expo (CUAV) in Las Vegas, the offering a 31% reduction in weight while still carrying a 6% greater energy than comparable packs.
The Commercial UAV Expo is an annual event for the commercial drone community to hear about new opportunities and challenges being addressed in the market. Participants included representatives and potential customers from many different industries. Parties interested in the Amprius x Tenergy battery pack ranged from UAS startups to government agencies.
Available commercially now for delivery, this next-generation battery pack is designed to enable increased adoption in the Unmanned Aircraft Systems ("UAS") market which is estimated to reach $38B by 2025.
"Through our partnership with Tenergy, customers can purchase this drop-in pack solution immediately, allowing end users to solve for longer range or additional payload. Amprius remains committed to delivering high-performance batteries crucial for powering advanced electric aviation missions and is collaborating with Tenergy to develop and release additional pack offerings," said Kang Sun, Chief Executive Officer of Amprius. "While our advanced silicon anode cells have been commercially available to customers since 2018, this marks the first integrated pack available using our advanced cells, targeted to address the demands of the UAS market."
"We have been eagerly awaiting batteries of this caliber to be released into the market. Amprius is the only manufacturer providing proven next-generation cells with unparalleled flight time and flight range thresholds transforming performance metrics that will take UAS industry to new heights," said Jason Li, CEO of Tenergy. "The collaboration on this drop-in battery pack provides significant advantages to how drones can perform."
Upgrade Energy CEO Matthew Barnard added, "The new Amprius silicon anode batteries represent a leap forward not only for UAS performance but also for the entire battery industry. Amprius' new silicon anode will enable longer flights, reduced environmental impact, and greater operational efficiency, setting a new standard for both UAS capabilities and the future of battery technology."