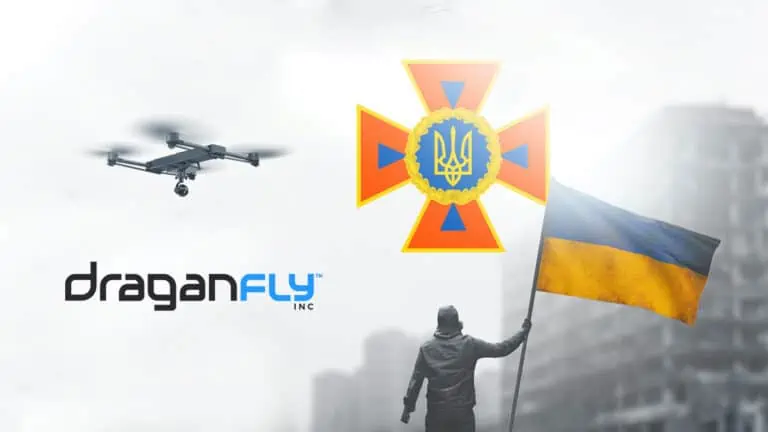 Draganfly, Inc., an award-winning drone solutions and systems developer, has successfully completed critical training and demonstrations in Ukraine.
The training program involved Draganfly's innovative Situational Assessment UAV technology, which was used to train personnel from the Main Department of the State of Emergency Services Cherkasy Region Ukraine, including the fire brigade and de-mining units.
DSNS Emergency Services Ukraine is a central body of executive power with activities directed and coordinated by the Cabinet through the Minister of internal affairs. It implements state policies in civil protection, protection of population and territories from emergencies, prevention of emergencies, rectifying emergency consequences, rescue work, fire extinguishing, fire and technogenic safety, accident rescue service activities, and hydrometeorological activities.
The training provided to DSNS state emergency services personnel included the fire brigade, de-mining units, and local Rotary officials. This comprehensive training approach aims to equip participants with the necessary expertise to leverage Draganfly's turnkey de-mining solution.
Draganfly will continue to host more extensive training utilizing its full suite of landmine mapping technology, including its 3 XL drone and a full suite of sensors for DSNS state emergency services.
"Our engineered UAV system represents a significant evolution in increasing the efficiency, accuracy, and safety of landmine detection and removal," said Cameron Chell, President, and CEO of Draganfly. "We are committed to playing our part in supplying Ukraine with the necessary technology to assist in the restoration of life in the country."
Draganfly has delivered Situational Assessment drones to DSNS Emergency Services Ukraine as part of an initiative to provide DSNS regional offices with support in their mission to create a mine-free Ukraine.